Mercedes hopes for early boost from new technical signings
| | |
| --- | --- |
| By Jonathan Noble and Matt Beer | Wednesday, October 12th 2011, 11:50 GMT |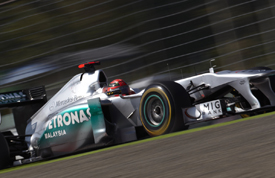 Mercedes GP team boss Ross Brawn says that recent technical signings Aldo Costa and Geoff Willis can have an immediate positive effect on the squad's performances when they join, even though it will take time for the full impact of their presence to take effect.
Former Williams, BAR/Honda and Red Bull man Willis joins Mercedes as technology director next week, with ex-Ferrari technical chief Costa becoming Mercedes' engineering director from the start of December. They will work under technical director Bob Bell, formerly of Renault, who joined Mercedes earlier this year.
Although Willis and Costa's arrival will be too late for them to have a great influence on Mercedes' 2012 car, Brawn is optimistic about the boost their presence can give.
"It will take a while, but so much stuff goes on when you sit down and debate issues with the car, with someone with that calibre and experience, they can have an effect straight away," said Brawn.
"In terms of philosophy of the car it will take a while before their influences feed in, but in many ways they will have the effect that they want."
Although Mercedes has yet to win a race in its current guise and has rarely been a threat to Red Bull, McLaren and Ferrari this year, Brawn is pleased that it has managed to stabilise the distance to the teams ahead.
"We are behind where we want to be, but we have managed to close that gap," he said. "We do a reasonable amount of analysis to understand where we are. We got worse about a third of the way through the season and then got back.
"The fact that we have managed to keep the gap down while we know Red Bull and McLaren were in the middle of the development way, that is a tribute to the developments we have made.
"You see some of the teams who have not made many developments have fallen behind us, and that is the vicious thing about F1 - that standing still is falling backwards. We have to introduce a step change in our performance to be fully competitive."
Asked whether that step was possible in 2012, Brawn replied: "Some of it, yes. Whether we can achieve all of it, that is a big step to make. But some of it we will do next year."
He also denied that there was any potential for over-complication by bringing in several big names accustomed to high degrees of technical responsibility at their previous teams.
"I can understand the comments about too many cooks," Brawn acknowledged.
"I think the important thing is to have a clear structure in terms of who does what. We have taken time with both Aldo and Geoff to discuss and define the structure, to make sure that lines of reponsibility and lines of authority are very clearly stated.
"I think any team that doesn't allow its people to have an opinion, state an opinion and contribute towards the overall plan is failing, so we are not going to have a situation where Aldo is not allowed to comment on the aerodynamics or Geoff is not allowed to comment on the chassis. It will not be like that, but clearly their day-to-day responsibilities are well defined."
He added: "Also contractually the opportunity to get people like Aldo and Geoff doesn't come along very often, and the stars lined up in terms of where our ambitions are and Aldo and Geoff became available.
"Aldo I know extremely well as we won world championships [together at Ferrari] and Geoff, I think, and although he doesn't say it himself, was pretty instrumental in setting the direction of Red Bull, and changing Red Bull's future."
Brawn underlined that the pursuit of figures like Costa and Willis did not signify a lack of faith in Mercedes' existing personnel.
"There are three teams that are better than us - Ferrari, McLaren and Red Bull are incredibly strong teams, and ones that have been well structured for many years so we must not throw away what we have already got because it is very, very good," he said. "This just adds a level of strength, and we need to manage the situation."
He also insisted that there was no danger of Mercedes straying beyond the boundaries of the Resource Restriction Agreement in its technical restructuring.
"At the end of day, Aldo and Geoff are two headcounts," said Brawn. "So I am sure once they settle in they will have their thoughts on ways to make the organisation stronger, but we will respect the RRA.
"We do have space under the RRA, as we look to increase our capacity."
Click here to read Jonathan Noble's AUTOSPORT Plus analysis of how Mercedes' technical push might tempt Michael Schumacher to stick around a little longer