McLaren believes it now has a car that can win the last four races of 2011
| | |
| --- | --- |
| By Jonathan Noble | Monday, October 10th 2011, 08:12 GMT |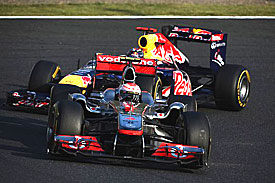 McLaren believes it can now fight for victory in the final four races of the year on the back of Jenson Button's brilliant victory in the Japanese Grand Prix.
Button made the most of the latest developments from McLaren to take the fight to Red Bull Racing at Suzuka - and great tyre management plus intelligent driving helped him edge out Fernando Alonso and world champion Sebastian Vettel.
With that performance coming at a track that has traditionally been perfect stomping ground for Red Bull Racing in the past, McLaren team principal Martin Whitmarsh says hopes are high for a strong end to the campaign now.
"We have a race car, and we have felt this for the last few races, that we can win races with," said Whitmarsh. "That is what we have been saying about these last five races: they are all winnable.
"We would like to win them. We are in that interesting situation where the championship is finished but there is a good fight in the drivers' championship for second place now. That does not inspire many of us, but we have to concentrate on that because the constructors' championship looks reasonably settled in terms of the top four places now.
"For us, it is now about winning races and we will concentrate on that. We like winning races and this is our fifth victory this year. If we win the next four then we will consider it a half respectable season."
Whitmarsh believes that one of the most encouraging aspects of the Japanese GP weekend was how close the team came to pole position - and he thinks it would be a big matter of pride for his outfit if it could end Red Bull Racing's lock-out of the top grid slot at some point in 2011.
"I think to me the biggest disappointment was not getting pole position [in Japan], as we felt we could get pole," he said. "There are no points in it, there is nothing in it. There is only your own pride. But we would like to score a pole position or two before the end of this season and we would like to score another four wins if we can."
Whitmarsh has, however, played down talk that a strong end to the season will mean much more in terms of a title challenge for next year.
"There is very limited development we are going to do on this year's car now," he explained. "We are concentrating on next year, and that is a programme that is going on at Woking. In the field, we just want to win races.
"Psychological momentum? I don't know what that counts for, but I don't think it counts for too much. If your car is quick enough at the beginning of next year then you will win races, and if it is not then you will struggle. We have to make sure we are quicker at the start of next year."
Whitmarsh also praised Button's driving in Japan, where he conserved his tyres during the early stages of the race and perfectly managed his fuel consumption at the end of the event.
"We were looking after it and it was causing a little bit of tension," he said. "I think he drove the right race. You have to win by one second; you don't have to win in these circumstances by seconds.
"Jenson drove well. He was lifting and coasting at various times at all points of that race. Not chasing, not getting tucked up someone's diffuser. It is very difficult and non-intuitive of a race driver if you have a car in front and you think you can catch him, but actually not catch him.
"But that is the maturity and the brains that Jenson brings to bear at the moment in terms of how he goes motor racing."