Mirko Bortolotti clinches Formula 2 title with Monza win
| | |
| --- | --- |
| By Jack Nicholls | Sunday, October 2nd 2011, 14:27 GMT |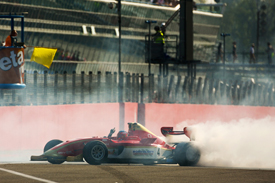 Mirko Bortolotti won the 2011 Formula 2 Championship with a commanding victory in the second race of the weekend at Monza.
After securing pole position, the Italian lost the lead into the first chicane after Ramon Pineiro got the better getaway and slid up the inside, forcing Bortolotti over the kerbs. The field made it safely through the first lap, when Bortolotti retook the lead by passing Pineiro into the first chicane. From then on he was never troubled, as the action kicked off behind.
Mikkel Mac was the first man to make a mistake, running wide at the Ascari chicane and launching his car over the gravel and grass. He survived, but a few laps later Thiemo Storz would not recover after squeezing Tobias Hegewald too close to the inside of the first Lesmo. The two collided, and Storz was sent spinning into the gravel while Hegewald dropped three places.
The closing stages of the race were dominated by the fight for second, with Pineiro attempting to hold off Miki Monras. Monras got past briefly at the second chicane, but Pineiro immediately fought back and held on until the end.
After losing ground at the start, Alex Brundle began to climb back up the field, firstly picking off Jack Clarke into the Ascari chicane before having a fantastic battle with Luciano Bacheta. The pair swapped positions multiple times over the course of two laps, with Brundle eventually able to break away and secure fourth.
Zanella was also moving up the order after a disappointing qualifying, eventually finding his way to sixth position by edging out Jack Clarke on the line by two tenths of a second.
Kelvin Snoeks drove a strong race to finish in eighth, ahead of the recovering Hegewald and Benjamin Lariche.
As reward for winning the championship, Bortolotti will receive a full test with the Williams Formula 1 team at the end of the season, but still has his sights set on more victories at the final F2 races of the year at Barcelona.
Pos  Driver                  Time/Gap
 1.  Mirko Bortolotti      35m43.683s
 2.  Ramon Pineiro           + 8.861s
 3.  Miki Monras             + 9.198s
 4.  Alex Brundle            + 9.999s
 5.  Luciano Bacheta        + 19.428s
 6.  Christopher Zanella    + 20.281s
 7.  Jack Clarke            + 20.416s
 8.  Kelvin Snoeks          + 25.799s
 9.  Tobias Hegewald        + 28.015s
10.  Benjamin Lariche       + 28.799s
11.  Mikkel Mac             + 29.683s
12.  Sunghak Mun            + 41.177s
13.  Plamen Kralev          + 48.377s
14.  Parthiva Sureshwaren   + 50.363s
15.  James Cole             + 59.323s

Retirements:

     Maxim Snegirev           13 laps
     Mihai Marinescu           5 laps
     Julian Theobald           3 laps
     Thiemo Storz               1 lap