| | |
| --- | --- |
| Rossi drawing comfort from Ducati's previous form at Motegi | |
| | |
| --- | --- |
| | Tuesday, September 27th 2011, 15:48 GMT |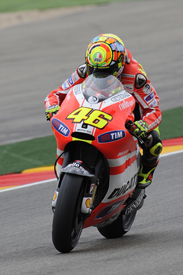 Valentino Rossi admits Ducati's past form at Motegi is a source of encouragement heading into the weekend, but says the team will split their focus between immediate improvements and long-term gains.
Rossi, who only confirmed he would ride in Japan at Aragon, struggled on the new part-aluminium GP11.1 last time out in Spain, equalling his worst finish of the year in tenth.
Though the result owed much to tyre wear issues, Rossi was downbeat after the race and says the team will simply have to see if it can improve at Motegi, a circuit Ducati has previously won at four times.
"The Ducati won last year and has also gone well there in the past, so we'll see if we can do any better than we have at the recent races," Rossi said.
"It's true that we're having to work very hard, but we always approach every Grand Prix with the goal of doing better.
"We'll try hard this Sunday as well, working on the track with what we have available at this time, while also simultaneously focusing on the future."
Nicky Hayden also said the team were suffering a disparity between immediate and long-term gains, as he played down his own hopes ahead of the Japanese grand prix.
"Motegi has probably been my worst track since I've been with Ducati, as I've struggled to get turned in those hairpin corners and get out strong," he explained.
"I'm not expecting an easy weekend, but Ducati is really working hard to give us options and to find the best direction for the future.
"It's great to see them putting in so much effort, and although we're not seeing immediate results, we're learning a lot and getting a bunch of data that's going to be a big help in the long term."