Red Bull says curfew rules need tweaking
| | |
| --- | --- |
| By Jonathan Noble | Tuesday, September 27th 2011, 08:06 GMT |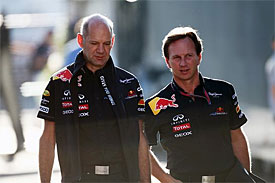 Red Bull Racing believes that Formula 1's curfew regulations still need tweaking after the controversy at last weekend's Singapore Grand Prix.
Several F1 personnel were caught out by the timetable in Singapore and broke F1's curfew - with Red Bull Racing, Mercedes GP and Virgin Racing all initially being told that they had used up one of their 'jokers' in the process.
After complaining to the FIA and proving that the marketing personnel who had entered the track had nothing to do with the operation of the car, it was agreed that the outfits had not breached the rules.
However, despite clearing the matter up, Red Bull Racing team principal Christian Horner thinks that the regulations do need looking at to ensure that both the FIA and the teams have the same interpretation of the curfew restrictions.
"I was surprised more than annoyed," Horner told AUTOSPORT. "At the end of the day common sense prevailed, the stewards understood that the temporary pass used was under no control, or not being used by a member, of the team so that joker was handed back.
"It is something that needs tidying up under the sporting regulations. It is clear what the regulations are trying to achieve, but it is impossible to be responsible for everybody that has a pass."
The idea of a curfew was put forward by the Formula One Teams' Association (FOTA) to ensure that staff were not overworked thanks to the 47-personnel limit that outfits operate to.
The FIA was then asked to add the rule to the sporting regulations so it could be policed.
Horner added: "I think the objective is clear and well-intended and it has worked well, but combined with odd working hours in Singapore, what sponsors or marketing or ad agency guys do, we cannot control."