McLaren boss Whitmarsh defends Hamilton after clash with Massa
| | |
| --- | --- |
| By Jonathan Noble | Sunday, September 25th 2011, 17:32 GMT |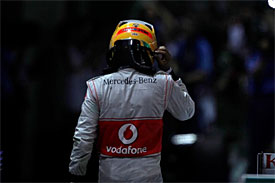 McLaren team principal Martin Whitmarsh has jumped to the defence of under-fire Lewis Hamilton in the wake of another controversial coming together for the British driver.
Hamilton's hopes of a podium finish in the Singapore Grand Prix were wrecked when he collided with Felipe Massa as they fought for position - breaking his front wing and earning himself a drive-through penalty in the process.
The incident, coming on the back of a spate of mistakes this year, has led to fresh questions about Hamilton's temperament – and whether he needs to change his approach to racing.
But Whitmarsh has said that he has no concerns about Hamilton's attitude and he expects his driver to learn lessons from what is going on now to help make him stronger over the rest of the campaign.
"Various things have happened," said Whitmarsh. "The team can take some blame and Lewis can take some blame.
"I think sometimes in motor racing other things just don't go your way and you have those runs. I think it has been a tough season, but we still are going to go out there and try and win five races, and Lewis will be trying to do that I am sure.
"When you are told you are back in 18th/19th place on a race like this on a circuit like that, it is deeply, deeply frustrating, so to deal with that and perform as well as he did was extraordinary – so he should have some credit for that.
"But none of us are perfect, the team has made some mistakes and we will make more mistakes. We don't want to, but that is life. We are pretty open and honest about these things, we don't conceal them, and that allows people to take a view on it and amplify it.
"As a team we have got to try and get better, Lewis has got to try and get better as a race driver but I think he drove from very difficult circumstances, five times through the pit lane to score valuable points, and get a strong fifth place like that, it was a great drive."
Hamilton's driving in Singapore – which comes on the back of errors in Monaco, Canada, Hungary and Belgium this year – left Massa hugely unimpressed.
"I was on the straight and he touched me, not even when he was on my side," said the Brazilian, who confronted Hamilton in front of the television cameras after the race. "He touched me when he was behind me.
"Then, when I got to the end of the braking, my tyre was already punctured. For sure it was a big, big problem for my race. And he paid for that as well, so what can I say?
"How many races this year he did this? He went in the wrong direction and he paid and he never learned. The FIA is looking for sure for that, because he is doing that so many times."
He added: "I think he is not learning. I tried to speak to him after we wait, but he didn't listen to me. I called him two times, but he didn't listen to me, he [walked] past me. He didn't even look to me.
"I called him to speak, but when I show him, I said, 'very good job, well done'. Like that you will win many championships!"
When asked about Massa's view that Hamilton will not win another championship unless he changes his driving, Whitmarsh said: "I think it is wrong. Lewis is still a young guy, he is learning and he will learn from all of this. He will win races and I am sure he is going to win more championships.
"He is an aggressive and assertive driver but he will win many more races than you or I and I am sure he will win many championships."