Pirelli says Singapore GP could be a strategy thriller
| | |
| --- | --- |
| By Jonathan Noble | Saturday, September 24th 2011, 11:37 GMT |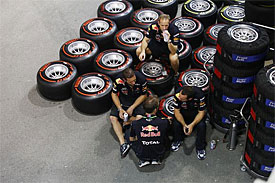 Pirelli reckons that the Singapore Grand Prix could turn into a strategy thriller - with those teams not having the ultimate pace of Red Bull Racing potentially trying out a different tyre tactic.
Red Bull Racing and Ferrari look to be in a class of their own in terms of out-and-out speed in Singapore judging by their form throughout practice – which makes it likely the two teams will try and maximise their opportunities on the super soft tyres with a three-stop strategy.
However, Pirelli's motorsport director Paul Hembery thinks that other outfits may follow the route that Jenson Button tried in Monaco of trying to eke a longer stint on soft tyres – which will leave them requiring one less pitstop.
"We were surprised how well the super soft was lasting, particularly with the top teams – it was 15/16 laps – with [Sebastian] Vettel looking like he had almost no degradation," said Hembery.
"But it was looking very, very steady and that was replicated with a number of the top teams. So from that point of view you would think they are going to go for a sprint strategy, maximising all the sets of the super soft and going on to the soft at the end.
"If you asked me the same question in Monaco I would have said the same, but we ended up with three different strategies among the top three.
"So maybe someone will be looking to take one pitstop out of that because they feel that it is difficult to overtake here. It should be a bit easier here but it is still relative for a street circuit, so there is going to be at a premium for track position."
Hembery also thinks it unlikely that, because of the difficulties of overtaking, there will be much temptation to try and save tyres in qualifying.
"I am sure someone will have a think about it but this is a street circuit and I have to say the grid position still has to count a huge amount. If Vettel is on pole and you save tyres then he is still going to go away.
"You are better off getting as far up for a good position – if you get a bit of luck with the safety car you can pull a result out of nowhere."