Q & A: Jean Alesi explains his Indianapolis 500 plans
| | |
| --- | --- |
| By Dieter Rencken | Friday, September 23rd 2011, 10:34 GMT |
Jean Alesi announced today that he would, as predicted by AUTOSPORT magazine earlier this year, enter the 2012 Indianapolis 500.
Present at the Singapore Grand Prix as part of his role with Group Lotus - which is backing his Indy bid, Alesi explained why he had chosen to return to top level single-seaters after a decade away. AUTOSPORT was there to hear his thoughts.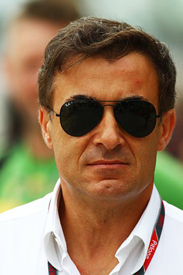 Jean Alesi: I'm doing the Indianapolis 500. Obviously this could be a surprise for a lot of my friends because it's a long time that I've not been racing at this level. But when I stopped Formula 1 I did the DTM and then I played around, let's say, with Speedcar and then last year with the GT.
But really I had a lot of will inside of me to be back in a good and competitive car, but it was difficult to find something and to find the sort of friends to talk about that, because you cannot go around and say 'I will dream to be back in a single-seater' and then you do not know what to do. Because after Formula 1 there is not really anything someone like me can do, because now I am too old to go back to Formula 3 or other kinds of single-seaters.
Being with Lotus, and [Lotus corporate operations director] Gino [Rosato] was a friend for 20 years now, I had this possibility to speak with him. When I went back with the [Lotus] T125, it made me really crazy about being back in a top racing car, and of course with Lotus being behind me, they say 'okay, if you want to do something good, we have Indianapolis - why not?' I said 'let me check how it is'. I checked carefully and it's not something I'm doing because I absolutely want to race, but I want to be able to be competitive, not to look ridiculous - because now I have not only my fans but also my family and kids, and they will give me a lot of s*** if I'm not doing well.
I've started already in the simulator, I've started to already do more mileage with the T125.
Q. A lot of Formula 1 drivers have done Indianapolis at the end of their careers, for example Nelson Piquet, and it hasn't always ended happily. Does that worry you?
JA: In my case, it never crossed my thoughts [to do Indy straight after F1], because I went immediately to the DTM and I had a fantastic time with Mercedes. And to be honest, when you do not have a group behind you, it is hard to find a team and to look for a new world like that is difficult.
The reason why it's easier for me to think about Indianapolis is because the company I'm with now is Lotus and next year we are building an [IndyCar] engine, so I'm really into the technique much more than going there and asking where there is room in a team. Then you just go and you follow the rules and you try to perform. In this case it will be much more interesting because we're going to have this V6 turbo soon - when I say 'soon', it's going to be in a car before December, and we're going to test in December.
Q. Where will you test?
JA: It's going to be in America. The first roll-out will be in England, because everything is going to be new and the fitting of this turbo engine in the car looks like it's going to be not so simple. Honda already did the first roll-out with [Dan] Wheldon and had some problems. We don't want to go to America and have our designer for the engine far away in the factory and it's impossible to solve the problems.
Q. Why just one race, why not the full season?
JA: Because everything is new for me so it's better to do it once than to maybe have a not good feeling on another racetrack. Apparently Indianapolis, I understand it's a unique circuit. So I want to prepare myself for this track. That's why I will do this one shot.
Q. Have you watched videos of Indianapolis?
JA: I've seen many videos. I respect it very much. In each decade there are different stories. Safety-wise, they've been extremely good. They've changed the walls. The new aero kit, with Dallara, is made to stop you flipping over and to make sure you do not have a car behind you who can jump on you. There are many, many safety issues that are better for the drivers, so that also goes in a good direction.
Q. When was your last single-seater race?
JA: Suzuka in 2001.
Q. How are you going to get race fit for 800 left-hand corners?
JA: Physically, the only thing I have to do is to lose some weight. In October I'll go to Sicily with my bike. I'll do the Tour of Sicily with my trainer. And then physically, on the muscle side, it's important to be strong in case of accidents, but not because you have to work yourself on the steering wheel.
Talking to the engineers, they say the car is going to be extremely easy to drive and smooth. It's not physical. But it's really tough mentally. And for the neck - when you can't hold your head by yourself, you have a small support and it's not really a problem. I will try to the maximum to be able to hold my head.
Q. Were you tempted when there was the offer of the $5 million prize for a guest driver in this year's IndyCar race at Las Vegas?
JA: Not really because I spoke with [IndyCar boss] Randy Bernard at Monza and I told him I'm not interested in this kind of race in my case. I'm not looking for the money. I really want to do Indianapolis. At Las Vegas the shape of the corners and the banking is deeper, it's not really the case at Indianapolis.
Q. Do you know which team you will race with?
JA: At the moment Lotus is with KV Racing. I will drive a Lotus car obviously, because that is the way it is.
Q. Were you tempted by Le Mans?
JA: I did it last year with a GT car. To be honest, it was a fantastic week, but to be mixed with the prototypes was difficult. I was driving a GT, but I'm sure if you drive a prototype, it's difficult as well, as we saw with [Allan] McNish [crashing in traffic] this year.
Q. How many hours will you have to put in in the simulator before the race?
JA: The programme is based on days. From 9am to 6pm, with one hour break. Last time I did 165 laps and you just learn the different set-up changes, the different fuel levels, the degradation of the tyres. That's what we worked on the first time. Next time I should have my race engineer with me to start a relationship with him and see what I need and what he will do on the car.
Q. Do you think your driving style will be suited to Indianapolis?
JA: I did two [F1] pole positions in my life and it was twice at Monza. The first time I went on the simulator, I reached 370km/h and with Formula 1 it was 367km/h, so more or less the same speed. The difference is I had to brake and change direction. In this case it's going to be on the outside the whole time. But the skill and the feel on low downforce is really something I like. I used to enjoy low-downforce circuits very much. But it's a new experience.
Q. Might you continue driving beyond next year?
JA: I'm a big fan of motorsport. I love to race. Many times I was tempted to say 'okay, it's over' but many times when I relaxed I'd say 'why do I have to say I quit?' I can do many other races as I get older and older and older. For the moment, my target is 27 May 2012.