Renault confident of 2012 resurgence after mid-season progress
| | |
| --- | --- |
| By Jonathan Noble | Monday, September 19th 2011, 15:41 GMT |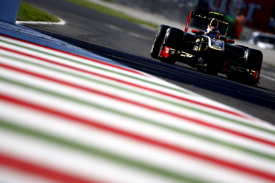 Renault may have endured a challenging 2011 campaign after falling away from the podium-finishing pace that it started the season with, but team principal Eric Boullier says he has reason to feel genuinely optimistic that the team can return to form next year.
Boullier says his confidence for the future is based on the fact that Renault has managed to arrest its decline this year - with recent updates to the car pushing it back into regular Q3 contention after a mid-season struggle.
With further updates set to be added to the R31 at this weekend's Singapore Grand Prix, and the team now benefiting from a mid-season windtunnel upgrade, Boullier thinks his outfit has the potential once again to push itself nearer the front of the grid.
"To be transparent with you, my first little happiness this year was that we were capable of producing a car at the beginning of the season that was able to fight for podiums," Boullier said, when asked by AUTOSPORT about his feelings on Renault's current plight. "That means that at home we have enough engineering and know-how to produce something good.
"Now, we understand why we could not catch up on the development speed, but I am confident that next year we will again be delivering a good car.
"And, on top of this, we have isolated different parameters that will make us better – and clearly delivering much better now in 60 per cent [scale windtunnel]. So I am very positive to be honest."
Renault has made solid progress after delivering an aggressive update programme since the German GP in July – although the biggest steps have come in the last few events.
Boullier says that a further improvement should come in Singapore this weekend – with parts that failed to be ready in time for the last race in Italy being available this time.
"We didn't bring the full upgrade we had planned for Italy because of production reasons, which means the biggest upgrade parts will be in Singapore," he explained.
"I don't know how much they will be worth, but two tenths [of a second] maybe. They will also change the way that we have to set up the car, so they could be worth even more."
Reflecting on the fact that the team was able to turn around its slip from form during 2011, with the low point being its worst qualifying performance of the year at Silverstone, Boullier said: "I am sort of relieved that we have been able to bounce back in performance.
"Definitely to have another upgrade coming in Singapore will be another help, so it is good to keep contact with the teams ahead of us, especially Mercedes. Now we have to seize our opportunities."