Damon Hill: Established Formula 1 circuits need more support
| | |
| --- | --- |
| By Jonathan Noble and Dieter Rencken | Monday, September 19th 2011, 10:45 GMT |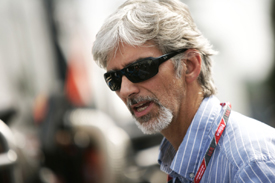 Formula 1 chiefs need to do more to look after the interests of race promoters, claims former world champion Damon Hill, as tracks struggle to juggle the finances of hosting grands prix.
Hill has first-hand experience of the difficulties that race organisers face through his experience as the president of Silverstone's owner the British Racing Drivers' Club. He stepped down from that role recently.
With more and more European races finding it hard to balance the books due to increased sanctioning fees, Hill feels that something needs to change to prevent the traditional events being lost from the calendar.
"I am concerned how promoted events survive with the demands of F1," Hill told AUTOSPORT. "I think F1 would do itself a lot of good if it thought about how circuits survive, and how promoted events survive, in what is really an important place in the world for this sport.
"I am not talking about places that have not had F1 races before; I am talking about places that have always had them. If you keep sucking out too much then eventually you break it."
Hill believes that more should be done for the fan in the grandstand, rather than the sport pushing so hard to improve facilities for corporate guests.
"There is a balance to find between the VIP level, the people who pay for the sport, the sponsors, but there is a point where you have to give the ordinary fan access to the sport and a feeling of getting repaid for their devotion.
"Football has had the same issue and, if you have stadia, a proportion has to go to affordable seating."
When asked if he had any worries that race attendance numbers at Silverstone next year could be hit on the back of fans needing to pay to follow coverage of F1 on Sky, Hill said: "I don't think anyone knows the answer to this question - whether people will pay the money, not pay the money, whether it will affect viewing figures.
"I think it will certainly affect the peak viewing numbers but it may not affect live events. England has always had a very strong following for motorsport: people like to touch it, smell it, hear it and will come to the track."