Pirelli announces tyre choices for Japanese and Korean Grands Prix
| | |
| --- | --- |
| By Jonathan Noble | Friday, September 16th 2011, 11:05 GMT |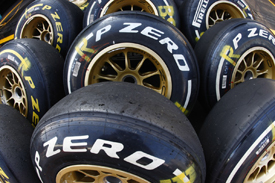 Pirelli has nominated the tyre compounds for the Japanese and Korean Grands Prix, and has elected to take different approaches for the two races.
With the Suzuka circuit putting high demands on tyres, thanks to fast corners like Spoon and 130R, Pirelli has chosen to bring the medium and soft compounds for that race.
For Korea, which is much slower and has a lower-grip surface, Pirelli will take the soft and supersoft tyres - the same nominations used in Monaco, Canada, Hungary and Singapore.
Pirelli's motorsport director Paul Hembery said: "After careful analysis of all the data we have available, we have come up with what we believe to be the nominations that are best suited to the characteristics of each circuit.
"While Suzuka is a track that we've competed on before, both in GT racing and on motorbikes, Korea is a circuit that most people are still learning about. Nonetheless, we benefit from advanced simulation technology that allows us to accurately predict the likely behaviour of each tyre even on tracks that we have never seen before.
"The extra performance of the supersoft makes it one of the most dynamic tyres in our range, which will form a key part of the strategy in Korea. Before then, the combination of medium and soft that will be used in Japan was last seen on our home grand prix in Italy, resulting in an extremely exciting race."