Indian GP bosses ease fears over custom taxes
| | |
| --- | --- |
| By Pablo Elizalde | Wednesday, September 14th 2011, 13:42 GMT |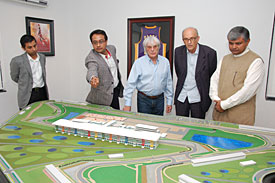 Indian Grand Prix organisers have moved to ease fears about Formula 1 teams having to pay custom duties during the inaugural race in the country later this year.
A report in the national media said that the Indian government was not willing to grant a custom exemption to teams since it does not consider Formula 1 to be a sport.
That would mean teams having to pay to temporary import their equipment into the country for the race.
Race promoter Jaypee Sports International Limited said on Wednesday, however, that it had the full support of the government, and claimed it would pay for the taxes itself if necessary.
"JPSI has full support from the government, the sports ministry and the customs department for the F1 event scheduled for October this year," said Sameer Gaur, CEO of JPSI said in a statement.
"We have an in-principle approval from the customs department for creating a customs bonded area for F1 equipment that will be temporarily imported to India.
"If required, as per the law of the land, JPSI will pay customs duties and taxes etc. for the temporary import of equipment. The estimated value of this equipment is about Rs. 150 crore and the final duty payable on this will be approximately Rs. eight crore."
The Chairman of Central Board of Exise and Customs told PTI that an exemption could not be granted since India did not consider the grand prix an even of national importance.
"When equipments are imported for sports events of national importance, the Sports Ministry issues a certificate on the basis of which Customs Department issues exemption notification subject to them (equipment) getting exported back. For Commonwealth Games and the (cricket) World Cup, those certificates were issued, so we gave exemption," said S D Majumder.
"In this case, the Sports Ministry has not given any certificate, so there is no question of granting any exemption. As it is, they are entitled to get duty drawback up to 98 per cent on the equipment imported.
"So effectively, they will have to pay only around 2 per cent. This is not an event of national importance so no such exemption is required."