Q & A with Paul di Resta
| | |
| --- | --- |
| By Simon Strang | Sunday, September 11th 2011, 10:08 GMT |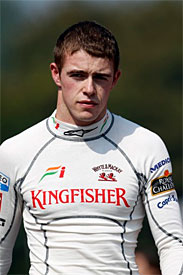 Paul di Resta is prediction a very close battle for the points in Italy after just missing out on a Q3 slot on Saturday.
AUTOSPORT caught up with the Force India driver ahead of the race.
Q. Frustrated or happy?
Paul di Resta: I think fairly happy. Unfortunate I think is the word to use. You look for your tow. You try your best to try and get around a car that's reasonably in sight to try and pick up that whatever of a kilometre. Senna's obviously has obviously got lucky and got one off Lewis on an in-lap. The lap was as good as it was good as it was going to be because I could two laps exactly the same within a hundredth. He beat me by seven thousandths. It maybe puts me in a better position tomorrow for tyre choice and strategy.
Q. Does slipstream play a really big part in it?
PDR: If you are in sight of a car it can make a bit of a difference yeah. But again it's a sacrifice. How close do you want to be a car through the Lesmos, Ascari and the Parabolica.
Q. Do you think it is going to be easy to pass?
PDR: I don't think it is going to be as easy as people think. But having said that there are cars out there that have got massive amounts of top speed. Look at the Renault, they can almost be 10ks quicker than us. They have obviously chosen a very long gear and a very small wing, you can see that the second element is pretty small.
Q. With that in mind can you still fight them tomorrow?
PDR: I think our long runs were pretty good. We made a change which transformed the car - even over a single lap - and it should be better for tyre wear so I am fairly optimistic. But there is cars behind us that are equally going to be quick. And I have got a set of tyres saved and hopefully that will be a crucial part. I think we will have a fight on our hands to score points. It won't be as easy by any means as some of the grands prix leading up to this. It's going to be a tough battle all the way.
Q. Have you guys experienced any blistering problems?
PDR: I won't comment on that.
Q. Are you expecting it to be a two-stop, three-stop?
PDR: I think it's unknown, we will basically see how they hang on. We are not making a final decision. We will run sims later but it is difficult to predict.
Q. Is there potential advantage to be had from being 11th, with nine of the cars starting in front of you will be starting on older tyres?
PDR: That will be what I am asking the guys when they do the simulations. We have got Rosberg up front on a set of primes and we can already see that the load is spreading. But I think that the time difference on the two tyres doesn't seem to be that not big with the track temperatures that we've seen.
Q. Do you think this is signal that you have dropped back a bit from Renault and Mercedes?
PDR: I think it's about who's come best prepared at the moment and what updates they've got coming through. Our ambition is to beat Sauber in the Constructors' Championship and that's what the guys are working to achieve and equally me and Adrian.
Q. What about Adrian, you must be pleased to be ahead of him again today?
PDR: Yeah. It was close. It was a difficult day yesterday missing FP1 as well. But I've moved forward which is always nice and over all the runs in qualifying I was a bit quicker than him.
Q. Who do you expect to be fighting with tomorrow for points?
PDR: It's close. The long run performance of Mercedes yesterday was pretty close to us. I don't know what the fuel loads were but I know where we were. It's a difficult one to predict. I would say that Mercedes are very, very strong in the first sector. What is happening there I don't know but obviously there is not much you can change to do anything about that. You basically predict what you best package is.
Q. What do you make of Monza in an F1 car?
PDR: It's a different experience. The cars slide around a bit more. I think the more year's gone on the slower the top speeds are because they put downforce on and they are more efficient in the way and with that they want a bit of drag with it. It's an enjoyable experience, and there is a massive amount of history about here. The Italians are always great fans and you can see what it means to them.
Q. Do you think the DRS zone on the run to Ascari is of any significance?
PDR: I don't know how much that will do. I think that will just put you in a stronger position when you get to the second DRS zone. I think getting close to somebody in the Lesmos with the downforce that we have... At top speed everybody is mostly trimmed out anyway so you switch your DRS is obviously lower than it normally is.
Q. If the Renaults are a bit more trimmed out could that give you an advantage if the tyres are marginal?
PDR: If you are more trimmed out then you are moving about a bit more in the corners and it might cause some problems but I wouldn't say everything... You could just be a bit aggressive and gamble and be out on mechanical or aero balance, and up and down the pitlane there are signs of blistering.
Q. You weren't going to comment on that...
PDR: I don't have to say too much. Pirelli have kind of confirmed it with their camber limits.
Q. Do you think there should be limits on cambers?
PDR: That's completely away from my decision. Pirelli take the decision with the FIA to make it safe for drivers and teams. We just do what we are expected to do. They are there for a reason.
Q. Is it really a safety issue or is it more of a competitive issue. You don't have to start on the blisters?
PDR: You do if you are in the top ten.
Q. You can start from the pits – but more to the point isn't it the teams' responsibility to use their tyres sensibly?
PDR: You can say that but there is always a compromise. We fixed it for the race in Spa and never saw any blistering. We took a compromise on Friday from having those blisters and fixed it. Whether that cost us performance we never got to see on Saturday in the dry and I don't know. On Sunday I don't know because the race was dry but we had a lot of damage. The limits are there and set by the tyre manufacturer – and we need to believe that the decisions they are making are correct. And I do.