Pirelli says Formula 1 camber row now over
| | |
| --- | --- |
| By Jonathan Noble | Sunday, September 11th 2011, 09:54 GMT |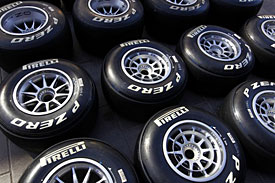 Pirelli thinks the controversy over camber settings in Formula 1 is now at an end, with the tyre company confident that a clampdown on the matter at Monza means there should be no issues in the Italian GP.
With there having been a big focus on the issue after the Belgian GP, following the blistering issues that Red Bull Racing encountered, Pirelli issued a more conservative camber guideline for the high-speed Monza track.
And eager to ensure that no team was tempted to go beyond that limit, the FIA stepped in to make that limit mandatory - with the possibility of exclusion from the race if any car was found to be beyond the limit.
Pirelli director of motorsport Paul Hembery told AUTOSPORT that the situation in Monza this weekend was normal, and he was happy with how the matter had been dealt with.
"One of our worries was that maybe we had been a little bit too cautious, and sometimes people have designed their car in a certain way that it could move some issues to another part of the tyre, or another tyre on the chassis," he said.
"So we just wanted to at least have Friday to review the situation, get a good picture and in the end we believed the correct level was the ones we gave, although perhaps the rear was too generous. We just wanted to make sure that it was confirmed.
"But we felt that if we had a situation where somebody was going to exaggerate [the camber] too far, then you could feel uncomfortable – so we asked the FIA to have the potential to make it mandatory. It was their prerogative.
"The matter was a one-off though. We haven't had any issues before and probably if we had been to Spa and run in the dry then we would probably not have asked for it here. We were left in a situation that made everyone's life more difficult than it needed to be."
Hembery says the soft compound at Monza is lasting longer than Pirelli had predicted ahead of the Italian Grand Prix, with him expecting a two-stop strategy this afternoon.
"The soft is lasting about 15 laps," he said. "There is some difference between teams though, and some teams might get a little more out of them as they have been lighter on them. So the strategy will be interesting.
"We saw in Spa when Mark Webber did a double-stint on the medium tyre and got a great result, and then having a new set of softs at the end with a light fuel load and a fast car, that he was carving through the field. I am quite sure they will want to do something similar to that again."