Senna tells Renault to be 'tough' with him
| | |
| --- | --- |
| By Simon Strang | Thursday, September 8th 2011, 15:48 GMT |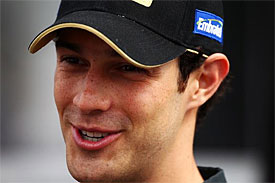 Bruno Senna has asked Renault to be 'tough' on him as he seeks to bring himself up to speed quickly in the team.
The Brazilian, who was promoted to a race seat within the team from the Belgian Grand Prix onwards, said he needs the squad to give him as much feedback as possible so that he can make the most of his opportunity.
"When I'm working I'm a perfectionist I try to get everything right. I work very, very hard and I try to give 100% every time I'm in the car," he said at Monza on Thursday. "So if I am not doing well I get grumpy.
"If the team makes a mistake I'm sure to point it out to them, the same way that if I am not performing I have already told them: 'You have to give me a hard time' because I want to be pushed into doing the best.
"The working environment is very harsh - not in a bad way – but it is a very 'let's push up all the way to the limit all the time', and that's how I am happy to work."
Senna admitted that he is still on a steep learning curve, having only had one race distance under his belt and that one of the uncertainties he has is how much impact he can make on car development in terms of set-up.
"The biggest challenge is that young drivers do not necessarily have the right path in our mind in where to take the development of the car," said Senna. "But this is relative, sometimes a driver can have this naturally and sometimes he learns it.
"This is the experience I am about to have, to know if my way of thinking and my way of working with the team will be automatically good for the development of the car or not. But I have a few races to try to that."
Senna added that completing a race distance last time at Spa means that he can approach the Italian Grand Prix from a different perspective.
"First I already have a weekend under my belt so I am not going into a complete unknown," he said. "And also there is the fact that I am going to be racing until the end of the season which is great. It means that the team is happy to give me the opportunity to stay in the car.
"It's going to be a great chance for me to prove myself. But I will have a very different approach from Spa."