McLaren says it won't ask Hamilton to change aggressive style
| | |
| --- | --- |
| By Matt Beer and Pablo Elizalde | Wednesday, September 7th 2011, 11:16 GMT |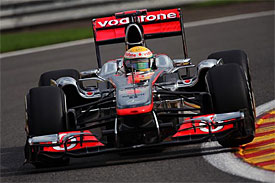 McLaren says it will not ask Lewis Hamilton to change his aggressive approach to racing despite the Briton's up and down 2011 season.
Hamilton saw his slim chances of fighting for the championship vanish after crashing out of the Belgian Grand Prix last week.
The McLaren driver is now 113 points behind championship leader Sebastian Vettel with seven races to go.
The Spa crash followed on from a disappointing race in Hungary, where he finished in fourth after spinning while leading. He had scored a superb win in the previous race in Germany.
McLaren, however, insists Hamilton's aggressive style is what has secured him so many successes in F1, and will not try to change the Briton's driving style.
"Lewis has had an up and down season and is a great driver who has won races this year and every year that he's driven for McLaren, and he's always pushing very hard," McLaren principal engineer Philip Prew told a Vodafone phone-in on Wednesday.
"He obviously came into the season with great hopes of winning the championship and obviously it's going to be very difficult to achieve that from here. He's pushing hard, which brings its consequences of high risk and I think that's what we're seeing.
"We will not ask him to change because Lewis has a very charging and aggressive approach and we fully support that. It's won him championships and that's our intention.
"Lewis is a very clever guy and he's a very good racing driver, and he will reflect on the difficulties that he's had this year and he will come back stronger."
Prew said McLaren is set to shift its focus to the 2012 car, but he is still expecting some improvements that will help its pace this season.
"There's always been a balance, but as we approach the tail end of this season the emphasis will move towards the MP-27," he said, "but there's still much learning that we can have with the MP-26 so with the development plans that we have at the moment.
"We should be looking at components that will give lap time benefit that we can hopefully carry over to next year, such as with front wings and rear wings for example that are directly transferable with the changes in the regulations, so hopefully we can benefit from both seasons."