Team Lotus reckons a giant killing performance in the Italian Grand Prix is unlikely
| | |
| --- | --- |
| By Jonathan Noble | Friday, September 2nd 2011, 16:23 GMT |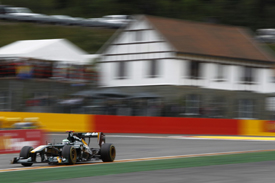 Team Lotus boss Tony Fernandes says the target for his team at next weekend's Italian Grand Prix is simply to get both cars to the chequered flag - as he does not think the nature of the Monza track will allow it challenge the established teams ahead.
While the Hingham-based outfit continues to chase its first points in Formula 1, Fernandes believes that Monza will be about keeping its ambitions realistic – while it continues to prepare for better things in the future.
"Monza gives us another chance to keep edging towards the teams ahead before we go back to the Far East and what is really our third home race in Singapore," said Fernandes, who has missed the last few races because of other business commitments.
"This weekend we are not going to be challenging the teams ahead quite yet in outright pace, but clever use of strategy and very strong drives from both Heikki [Kovalainen] and Jarno [Trulli] give us a chance to hold our own in the race, so the target for Monza has to be to maintain the reliability record established in Spa and look for another two car finish at the chequered flag, as high as we can reasonably hope.
"That is a realistic target, and that is the approach we bring to everything related to our team. The plans for the future development of the team, and the group it sits in, are taking shape exactly as we want them to and we are setting ourselves reasonable goals that can be achieved through hard work, innovation and a little bit of luck."
Kovalainen, who managed to make it through to Q2 in last weekend's Belgian Grand Prix, thinks that an aggressive approach to the Italian event could also pay dividends.
"Monza is another different challenge for us and it'll be good going there on the back of such a strong weekend in Spa," he said. "It has different downforce requirements to most of the rest of the tracks we race on, but we'll go there with the same sort of aggressive strategy we used well in Spa to put us into Q2."
Trulli is in a positive frame of mind too, especially as he is set to resume using the power steering system that so delighted him at the Hungarian Grand Prix.
"The car felt really good in Spa, and I know we have the revised power steering system I used in Hungary back for this race, so I think we'll be ok," he explained. "We had very strong race pace in Belgium, and if we can carry on like that in Italy we'll be just fine."