Jenson Button ready and waiting for new McLaren deal
| | |
| --- | --- |
| By Simon Strang and Dieter Rencken | Tuesday, August 30th 2011, 11:32 GMT |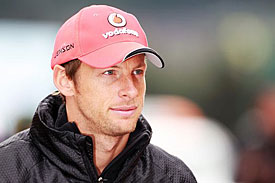 Jenson Button says he is now just waiting for McLaren to take up his option for next year, with him fully expecting to be at the team next year.
The 31-year-old Briton has yet to confirm his drive for next year, but the team is understood to be working on a new, more expansive longterm contract that ties Button to McLaren beyond 2012 - rather than simply picking up its one-year option that it holds on his services.
Asked during the Belgian Grand Prix weekend what his chances of staying with McLaren were, Button replied: "Well, hopefully good. I want to stay here next year, so hopefully I'll be here next year.
"I'm just waiting for the team to pick up the option," he added.
Button refused to talk about specifics, or when the option deadline expired - believed to be within the next month - but indicated that he would have an input in any future deal agreed with McLaren.
Speaking at McLaren's demo run in Manchester on Monday, Button insisted: "If Martin Whitmarsh takes up the option... All he has to do is say 'yes' and I will say 'yes' because I want to be here next year.
"It's up to the team as to when they approach me, but for me I'm the happiest I've been with the car. The car I really like and the direction we've taken with the car."
Button's career already spans eleven and a half seasons, but the Briton - who has won twice this season already and lies fourth in the drivers' standings, three points ahead of his team-mate Lewis Hamilton – has not put a limit on how long he expects to keep racing at the highest level.
"I don't know," he said, when asked how long he thought he would race for. "I mean, I'm sure Michael [Schumacher] and Rubens [Barrichello] 10 years ago would probably have said 'no chance'. But they've done it, so it's a strange one. We're very lucky in what we do.
"There are negatives with positives, but it's difficult to find something else that really you get that excited about. I have things I wanna do after racing...
"It is tough. I was speaking to Jessie my girlfirend about [the travel]," he added. "Basically it's very difficult to find somewhere that you call home because you're always travelling. So that's probably the most difficult thing of the job, you know, you never feel you're in one place for a long time.
"So that's why it's nice when we go to Japan, we''ve got a bit of home there because it does feel like home, live in one place. For the whole time we rent an apartment. Yeah I think that's one thing that you miss, but then there are so many positives to go with it as well. You know, we travel to so many great countries, so many different cultures, we're very lucky to be doing what we do. Positives and negatives there always are."
Button also hinted that when he has finished racing in F1, he would like to compete in other forms of motorsport.
"I want to race in other formulas, possibly," he said. "I'd like to race at Le Mans. I'd like to be part of a team that win, as in a team of drivers, not just a team of people.
"I don't think rallying, [But] I also want to do triathlons. I want to qualify for the world championships. That's gonna be almost impossible to do, but I'll give it a go.
"I can't do it now while I'm racing, so it will have to be after racing."