Red Bull was 'not comfortable' with Spa tyre situation
| | |
| --- | --- |
| By Jonathan Noble | Monday, August 29th 2011, 09:29 GMT |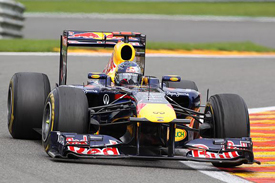 Red Bull Racing team principal Christian Horner has confessed that he did not feel totally 'comfortable' in the build-up to the Belgian Grand Prix because of the tyre blistering issues suffered by his drivers in qualifying.
With the tyre matter the major talking point at Spa, and Pirelli angry that the situation was exacerbated by Red Bull Racing using a camber set-up outside of a recommended guideline, Horner says the issue was taken hugely seriously during preparations for the race.
And although discussions with Pirelli had left his team sure that there would be no safety problems in pushing on with the blistered tyres on the high-speed Spa track, he has admitted that he was not completely happy before the start.
"I don't think any of us felt truly comfortable, but we had to believe in the information that we had and the feedback we had from the specialists," Horner said. "We had great support in that respect."
He added: "Adrian [Newey, technical chief] was pretty stressed about the tyre, and he takes that responsibility incredibly seriously. None of us wanted to be putting our drivers in any way at any risk."
Despite the focus on the issue revolving around Red Bull Racing's aggressive camber set-up, Horner thinks that the freak weather experienced in Belgium was actually a larger contributing factor.
"I think that it is a unique problem here, and one that if we had had proper dry running on Friday you would have tuned out of the car potentially," explained Horner.
"On the prime tyre there was no issue at all and the tyre was very clean. You could see, particularly on the frontrunning cars, that all the teams were affected by blistering. Fernando's looked pretty bad at one stage, Lewis was having issues, as was Jenson.
"So I think all the frontrunning cars seemed to be having issues and it was a consequence of having no dry running in P1, P2 or P3. Then, obviously, the forces put into the tyre here are somewhat different to some of the other circuits."
When asked how much consideration the team gave to swapping tyres and tweaking its set-up pre-race, which would have meant starting from the pitlane, Horner said: "A lot. You have to take into consideration safety at the end of the day. We had great support from Pirelli, working with their engineers and with the information they provided to us, we were able to make a decision."
Click here to read Gary Anderson's analysis of the tyre controversy and Tony Dodgins' thoughts on how Red Bull handled the weekend in AUTOSPORT Plus.