Ramon Pineiro completes clean sweep of Spielberg Formula 2 races
| | |
| --- | --- |
| By Andrew van de Burgt | Sunday, August 28th 2011, 13:47 GMT |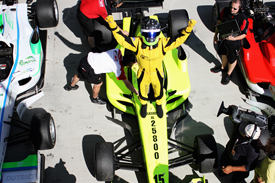 Ramon Pineiro made it three Formula 2 wins in a row with his second victory of the weekend at Spielberg.
Poleman Christopher Zanella led off the line, but outbraked himself into Turn 3 and Pineiro and Mirko Bortolotti went through.
It was closer than race one, but once again the championship leader couldn't challenge Pineiro's ultimate pace, and the Spaniard was unchallenged throughout.
On his best weekend so far, Mihai Marinescu took third from Zanella with a great pass, but he was a long way back on the lead duo. Zanella held onto fourth, while Kelvin Snoeks took fifth after a good charge.
Tobias Hegewald had a good battle with Max Snegirev, which he won to claim sixth. In fact the dicing for the minor points provided the main entertainment, with Benjamin Lariche, Mikkel Mac, Luciano Bacheta and Miki Monras disputing the places.
Bacheta rounded off a satisfactory debut weekend by sealing the last point on the final lap.
Results - 26 laps:


Pos  Driver                   Time/Gap
 1.  Ramon Pineiro          36m07.472s
 2.  Mirko Bortolotti         + 1.204s
 3.  Mihai Marinescu         + 11.124s
 4.  Christopher Zanella     + 12.709s
 5   Kelvin Snoeks           + 20.818s
 6.  Tobias Hegewald         + 24.689s
 7.  Maxim Snegirev          + 30.592s
 8.  Benjamin Lariche        + 33.186s
 9.  Mikkel Mac              + 33.537s
10.  Luciano Bacheta         + 35.887s
11.  Miki Monras             + 36.181s
12.  Julian Theobald         + 39.000s
13.  Rene Binder             + 41.100s
14.  Thiemo Storz            + 50.871s
15.  Plamen Kralev           + 54.890s
16.  Johannes Theobald     + 1'04.034s
17.  Parthiva Sureshwaren  + 1'05.096s
18.  James Cole               + 2 laps

Retirements:

     Sunghak Mun               21 laps
     Alex Brundle               6 laps     
     Jack Clarke                1 lap     
     Armaan Ebrahim             0 laps