David Coulthard and Anthony Davidson lead tributes to Martin Hines
| | |
| --- | --- |
| By Jonathan Noble, Simon Strang and Kevin Turner | Sunday, August 28th 2011, 11:33 GMT |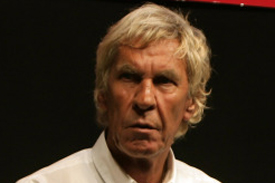 Former Formula 1 drivers David Coulthard and Anthony Davidson have paid tribute to karting guru Martin Hines, who died on Sunday morning aged 64. He had been suffering with cancer.
Coulthard, along with several other British racing drivers including Lewis Hamilton, Davidson, Gary Paffett and Jason Plato, was assisted in his junior career by Hines - himself a multiple karting world champion.
"Martin was a great man and I think he deserves the lion's share if not all of the credit for karting in the UK and personally I looked up to him as a young karter," Coulthard told AUTOSPORT at Spa on Sunday. "He was in Superkarts, I would go to the British Kart Grand Prix, which was at Silverstone, and his kart set-up was like McLaren to me. It was immaculate - he always wore immaculte leather race suits and he was like an early hero if you like.
"And at that stage of my career if someone had said you be Martin Hines and you can have Superkart and sun tan and all the rest of it, I would very happily have said 'yes please'.
"And then I had the chance to race with Zip Kart in karting at a time when Zip weren't that popular in juniors. I won the Super 1 with Simon Wright then I moved to Zip Karts for the following year and won it again - which was quite a sense of achievement because it helped develop the kart and what have you."
Coulthard added that there had remained a strong bond between him and Hines after he moved into car racing, and that the Scot had intended to visit Martin last month in the knowledge that he was ill.
"Martin and I have remained friends and obviously I knew of his illness," said Coulthard. "I tried to go and see him just after the Nurburgring but he was too ill to see us - and I am very sorry for him and the family. The family has all sorts of tragedies along the way.
"In a way he was Mr Karting. Karting will continue because it is a great sport irrespective of whether it is a launching pad for future talent, but it won't ever be the same again."
Davidson was another to have won championships for Hines' Young Guns team.
"My dad bought his first kart from Martin Hines' Zip kart factory in Hoddesdon when I was eight years of age," said Davidson. "I went on to drive for the Zip Young Guns team created by Martin in the '90s where I had great success as he continued to grow his UK karting empire.
"I befriended his son Luke at the track and spent time at their family home too where I got to see Martin as a caring father and a true family man.
"He will be missed by all the drivers that ever had the chance to drive for him and by the world of motorsport."
Double British Touring Car champion Plato was one of Hines' early proteges and another win the British kart championships under the Zip banner.
"I first got to meet him [Hines] in 1982. We'd won the British championship and we did a deal for me to drive a works Zip kart in the Junior International series in 1983.
"Without Martin we wouldn't have been racing and he was a tremendous help to my career.
"He had a passion for helping young karters, even if it meant putting his hand in his own pocket. He gave so much to the sport and young guys, not just funding, but with guidance and equipment. I really don't think motorsport in the UK would be what it is without Martin.
"We kept in touch and he was a good family friend. I'm really shocked - I didn't realise he was poorly. It's a big loss to motorsport."