Michael Schumacher shrugs off Spa qualifying wheel incident
| | |
| --- | --- |
| By Matt Beer | Saturday, August 27th 2011, 14:53 GMT |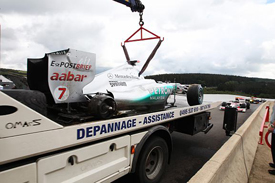 Michael Schumacher said he would remain positive about his chances in the Belgian Grand Prix despite the lost wheel in qualifying that left him at the back of the grid.
The Mercedes' right rear wheel became detached between Malmedy and Rivage on Schumacher's out-lap in Q1, causing him to crash.
"Well, obviously I would have wished for a different end to today's qualifying, but it is difficult to drive on three wheels - even if I should have the experience to do so in Spa," he said, making a light-hearted reference to his incident with David Coulthard in the 1998 Belgian GP.
"Seriously, this is certainly something that should not occur, but then this is also Formula 1; we are working at the highest level but still things can happen.
"At first, I wasn't sure what had happened, as I just felt myself lose the back end suddenly which is why I instantly apologised to the team. But then I saw the wheel off the car and understood the reason why I had lost control.
"Trying to find the good in the bad, I'd probably say that I still have some fresh sets of tyres left, and that there is only one direction to go tomorrow: forward."
Team boss Ross Brawn said it was not immediately obvious exactly why Schumacher had lost the wheel.
"We need to look at exactly what happened, but it would appear there was something amiss with the right rear wheel attachment, and we need to go through it carefully tonight to ensure there can be no repeat," said Brawn.
Schumacher's team-mate Nico Rosberg qualified fifth in the sister car, and was delighted with Mercedes' handling of the changing weather.
"It was quite difficult," said Rosberg. "The situation was that conditions were always changing - dry to wet to dry again, and then wet tyres, intermediates, slicks... there was everything.
"But it was interesting and we made the best of it today. The team helped me a lot with the strategy - I was the last guy to cross the line, which was good as it meant I had the driest track and it all worked out well.
"I'm set up for the dry tomorrow so it's probably going to be pouring down. But it doesn't matter, in any conditions we're okay."