| | |
| --- | --- |
| Indianapolis resurfacing draws mixed reception among MotoGP riders | |
| | |
| --- | --- |
| By Jamie O'Leary | Friday, August 26th 2011, 22:34 GMT |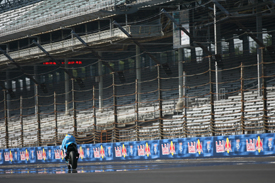 The new Indianapolis track surface received a mixed reception from MotoGP riders after the opening two practice sessions for this weekend's grand prix at the legendary US circuit.
Riders spent the entire morning session laying rubber onto the new asphalt and improving grip levels as a result. Despite this, the fastest lap times were still around three seconds away from regular dry times.
During the afternoon times dropped to within 0.5s of the lap record, leaving most competitors certain that the new surface will allow them to go even faster on Saturday.
Championship leader Casey Stoner, who was quickest during the afternoon, said that the surface was the worst of any MotoGP circuit.
"This afternoon the track was slightly better and of course the lap times improved with more bikes on track and cleaning it up, but I'm still not comfortable on this surface," he said.
"It's incredibly slippery and the track is certainly my least favourite of the whole season. It's very tight, slippery and the new surface is pretty bad, it's not just the dirt on the surface but there seems to be something strange where the two surfaces join, some grease of some sort that creates more issues."
Seven-time world champion Valentino Rossi was more complimentary, despite admitting that the slippery track surface had caused his rear tyre to spin up more than usual, resulting in early damage to the rubber.
"I'm very happy about the work on the track," said the Ducati rider. "This morning I was more worried. The problem is that unfortunately [barely] nobody uses this track.
"The morning it was like in the wet. This afternoon the step was massive and you can have normal grip. The asphalt is okay, but the problem is off the line. Saturday and Sunday it can be better. If you get off line you are in the shit. It's like rain."
Yamaha rider Ben Spies, who was one of the stars of practice, said that the constantly changing grip levels meant it was not easy to know how hard to push.
"It was a good start today, the first session I was waiting to see if the track was going to stay the same but in the end in the afternoon it improved a lot. The track is going to get even better for tomorrow so we're looking forward to making another step forward and seeing what we can do."