Paul Di Resta intrigued by the challenge of Eau Rouge in an F1 car
| | |
| --- | --- |
| By Simon Strang and Jonathan Noble | Thursday, August 25th 2011, 14:21 GMT |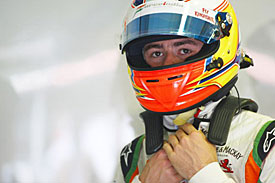 Force India rookie Paul di Resta has admitted he is intrigued by the prospect of attacking Spa's famous Eau Rouge in a Formula 1 car.
The challenging compression that has symbolised the nature of the Belgian Grand Prix venue over decades has lost some of its fascination for modern Formula 1 drivers with the advancement of car aerodynamics making it 'easy flat', and no longer a talent differentiator, in recent years. And with the FIA announcing this week that drivers will be banned from using DRS through the sweeping section at the weekend, this looks likely to remain the case in 2011.
Nevertheless di Resta says he is looking forward to his first taste of driving through it in an F1 car.
"I've only ever driven it in a Formula 3 car, so I'm sure it will be a bit more of a challenge in a Formula 1 car," he said.
Asked if he will approach it with a sense of fear, di Resta replied: "I suppose you do. All the people up and down the paddock say it is easy flat, but you can only judge it when you do it.
"I've done it on the simulator, which gives you as good a feeling as anything else before you drive it.
"Having walked it this morning it is a steep hill with a blind corner. It's what everybody talks about.
"The FIA have taken the decision to disable the DRS through there, so I suppose in that sense it makes it more straightforward if it is in doubt, and if the weather conditions are tricky it makes it a bit harder again."
The 25-year-old Scot, who lies 16th in the drivers; standings following his seventh place in Hungary, says he is well rested and raring to go after the summer break.
"I had a good break, and it was quite an important time of the year to get it," he said. "Everything shut down, so I managed to spend quality time with my family, doing what we want to do.
"With the year so long, we're coming into a heavy spell, probably the busiest part of it.
"I went straight home and stayed there for the full term. Weather was good, and I trained probably harder than I've ever done in my life, to build my fitness back up again because you lose it through the year.
"To be somewhere for that long was nice. I can't remember sleeping in the same bed for that long."
"It was important because it gave me time to analyse the beginning of the year, how that went and what I'd like to carry on going into the remainder of the year.
"The season does run quite late, so it was nice to catch up with some people because the rest of the season will be spent travelling, and once that is over it's then about the development of next year's car and looking to see what will happen in the future."