| | |
| --- | --- |
| Honda suggests switching Japanese GP from Motegi to Suzuka this year | |
| | |
| --- | --- |
| By Jamie O'Leary and Michele Lostia | Tuesday, August 23rd 2011, 16:28 GMT |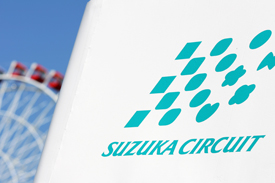 This year's Japanese Grand Prix could be saved by switching the event from Motegi to Suzuka, according to Honda MotoGP team principal Shuhei Nakamoto.
The race was plunged into doubt following the devastating tsunami and earthquake that hit the north-west of the country in March and forced the race to be postponed from April 24 to October 2.
Further concerns were raised over potential radiation levels at the circuit following a leak at the Fukushima nuclear facility 70 miles away, with the likes of Casey Stoner, Jorge Lorenzo and Valentino Rossi all insisting that they would not travel to Japan on safety grounds.
While an independent review has declared Motegi safe and race officials have confirmed that the race will go ahead as planned, Honda rider Stoner has admitted that he is now likely to compete in the grand prix.
Rossi and Lorenzo, however, are among a swathe of riders who have yet to commit themselves to traveling, which has raised further concerns over whether the race can take place.
Nakamoto believes that switching it to Suzuka - which held the Japanese Grand Prix from 1987-2003 and is more than 300 miles from the 'danger' zone - would be an ideal situation to safeguard the event this year, despite the race being only six weeks away.
However, he does not believe that the Honda-owned circuit would necessarily stage the event in future seasons.
"I say that we could race this year at Suzuka and then go back to Motegi from next year," Nakamoto told Motosprint. "Besides, I like Suzuka better: the circuit is nicer and more technical. [But] the international federation has taken away the homologation of the Suzuka track, so it would need some dispensation, and that would need to be done quickly.
"For sure three years ago the Suzuka track has undergone important renovation works to the circuit, the run-off areas, and the service roads around the track.
"The paddock has remained a bit outdated, but for just once it wouldn't bother anyone. And the Suzuka Eight Hours, held regularly, demonstrates that bikes, too, can race there."
Motorcycle racing's governing body the FIM removed Suzuka's homologation to stage grand prix racing following the death of Daijiro Kato during the 2003 race.
However, Nakamoto does not believe that any after-effects of that crash, which took place at the chicane at the end of the lap, need to be taken into consideration.
"The chicane, which isn't even used by the Formula 1 race anymore, has been modified in all its external area," he added.