Fortec duo Alexander Rossi and Cesar Ramos disqualified from race two at Silverstone
| | |
| --- | --- |
| By Peter Mills | Sunday, August 21st 2011, 16:34 GMT |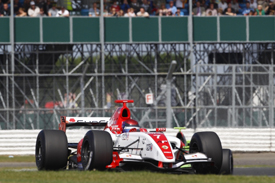 Fortec drivers Alexander Rossi and Cesar Ramos have been disqualified from Silverstone's second Formula Renault 3.5 race.
In post-race technical checks both cars were found to have non-complying wheel nuts. A Renault-Sport spokesman said that the wheel nuts had been modified to improve the speed of the pitstops.
Rossi, one of the stars of the race, had finished runner-up while Brazilian Ramos took the chequered flag in ninth.
"There's a problem with the grooves of the wheel nuts," said Rossi. "They said 'Okay, there are all there, but the thickness is not enough.' How can you remove me for that?
"The rules say you cannot modify the wheel nuts. We're in the process of appealing. The pitstop was quick, but that's because in the private test at Snetterton last week we did, like, 60 of them, that's why they were a bit worn - they weren't modified. It is not a question of safety but they're saying it's a performance advantage. It's disappointing, but other than that it was a good race.
"The grooves were not compliant, but the amount of grooves was all there. Obviously there was a reason why they were looking at them because it was quick stop. I know the whole length of the pitstop process was 27 seconds and the next best was 29 seconds, so it was pretty impressive. It is a shame as we had closed to 20 points behind JEV [Jean-Eric Vergne, in second position in the points] and we had a good opportunity to catch him."
ISR team-mates Daniel Ricciardo and Nathanael Berthon are promoted to second and third as a result of the decision.