Sauber and HRT give thumbs-up to in-season testing, but it must make financial sense
| | |
| --- | --- |
| By Pablo Elizalde and Dieter Rencken | Friday, August 19th 2011, 10:04 GMT |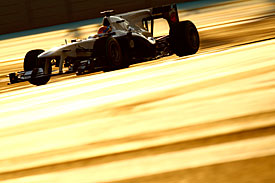 Sauber's managing director Monisha Kaltenborn said her team is in favour of a return to in-season testing but insists that Formula 1 remains vigilant that the current cost-saving plans stay in place.
As revealed by AUTOSPORT last month, F1 teams are working on a plan that would see in-season testing return in 2012, with FIA president Jean Todt also in favour of the move claiming it is ridiculous teams cannot test during the season.
Kaltenborn says that while any new testing plans should not have a significant impact on the current levels of running costs for teams, it is important that the sport does more to develop new talent.
"For us it is extremely important that this restriction is not given up totally," she told AUTOSPORT. "We do feel, however, that, especially for young drivers, it is quite a challenge to get into Formula 1 because they hardly have any opportunities to try the car.
"So we feel that if you consider allowing them to drive within the existing restrictions, I'm sure we could find a balance there. So as a team we wouldn't oppose such move provided we stay within the parameters of our resource restriction."
Kaltenborn suggested one possible solution would be to move one of the current winter tests to a latter date in the middle of the season.
"I would say giving young drivers the opportunity is a very important factor. I do however also feel that the way testing is currently undertaken with all the tests squashed into a certain period, probably if you could move some into the season in a cost-effective and responsible way, you could get more out of the development without exploding on the costs side."
HRT team principal Colin Kolles says his outfit is also in favour of in-season testing return, but only if it makes sense financially.
"In principle we are in favour. In principle," Kolles told AUTOSPORT. "Then it depends where it is, how it is done, at what point in time it is. The cost factor plays a big role in this. If it's done in an efficient way again, we are more than happy to go testing. It would be beneficial for us.
"But it's a matter of where you do it. I mean, you have a race in Hungary and you have to travel to Jerez or to Paul Ricard, then it's a little difficult.
"But if it makes sense, in the way that you say 'okay, you have a race here and you continue like two, three days of testing' and then you go to the summer break, it's okay. Because it's not huge costs."