| | |
| --- | --- |
| Valentino Rossi has cast further doubts over his participation at Motegi | |
| | |
| --- | --- |
| By Sam Tremayne and Michele Lostia | Thursday, August 18th 2011, 12:41 GMT |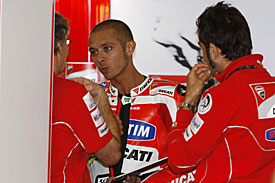 Further doubts have been cast over Valentino Rossi's participation in the Japanese MotoGP race at Motegi, should the event go ahead on October 2 as planned.
The Italian said in Brno that the FIM's recent report into the status of the region - hit by the nuclear disaster following Japan's tragic tsunami – had assuaged fears about radiation, but admitted that, alongside his mechanics and paddock figures, he still had concerns about the general safety of the area.
Having said he was yet to make up his mind, the Italian press has reported that he is close to a decision not to race at Motegi.
"I really don't think I'll be going to Japan," Rossi was quoted in Italian newspaper La Repubblica. "We are all afraid: myself, my friends, the team. The idea of racing in Japan doesn't seem sensible to me.
"Until today I've kept a low profile about it in the hope that the people at the top in MotoGP would take the right decision, but it didn't happen."
Rossi said he was open to switching to another venue within Japan, such as Suzuka, but couldn't accept racing at Motegi given the ongoing seismic activity and troubles at the Fukushima nuclear plant.
"Even if the ARPA results on Motegi are correct, there's still an unsafe nuclear plant less than 100kms away and a violent earthquake per week in the area.
"I understand who goes to Japan for humanitarian reasons, but for a motorcycle race no, I can't accept that.
"At this point, with this emergency, we could race on a different track, further away. It's useless to talk about insurance. What do I need insurance for if I get sick or if I end up living a nightmare for 40 years?
"I don't care what the others think, whether they're going or not. I want, in fact I must be able, to decide fully by myself. I imagine we'll have to say yes or no by Misano."
It is believed that Ducati has given its employees full freedom of choice on Motegi, with the Italian press speculating that the Italian manufacturer may not enter the race at all as a consequence.