Trulli 'not panicking' about his future in Formula 1, vows to focus on 2011 season
| | |
| --- | --- |
| By Pablo Elizalde and Jonathan Noble | Tuesday, August 9th 2011, 11:29 GMT |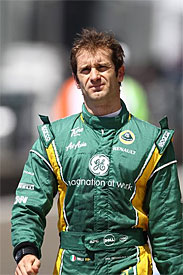 Jarno Trulli says he is 'not panicking' about his future in Formula 1, the Italian claiming he is now focused on trying to turn his season around.
Trulli struggled with his Lotus car in the first part of the season as he tried to cope with his problems with the power steering system.
The Italian was replaced by Karun Chandhok at the German Grand Prix, but returned for Hungary, where a new power steering system lifted his spirits.
Trulli, who has been in talks with Lotus about a new deal, admitted he is now upbeat about his chances for the remaining part of the year, and has vowed to focus on achieving good results without thinking too much about his future.
"As I always say, I'm not panicking about my future because first I have to be quick and second I have to be motivated," Trulli said.
"So now it all looks very different for me, everything looks brighter. I'm not really looking at the future, now I want to build up from now, and whatever will be, will be.
"Some announcement will be done probably in the next weeks, but at the moment I'm happy with the way it is and I just want to focus on my job and the team and my results. I want to enjoy what I'm doing because I wasn't enjoying it much before."
The Lotus driver admitted the issues with his car's power steering made him start asking questions about his own ability.
"The worst was at Silverstone. I was totally lost," he said. "At Silverstone I stepped into the car and I didn't know where I was or where the limit was.
"I was trying to feel it but I didn't have any feeling. I was not in control of it, and sometimes you ask questions, 'is it me?' and you start you have these question marks. So at least I'm happy for myself."
The Italian veteran described the new power steering as a different world for him, and he is confident he will be able to make more progress as the season progresses.
"It's a much better feeling now," he added. "They did a good job with the new power steering system, which is giving me the exact feeling with the car. I think we can still improve the system, but the feeling is okay. For the first time this season I started working with the car and changing many things because many things were becoming very clear for me.
"It's totally another world. The way I drive is totally different. Before I was a passenger in the car. I just hope now I can build up my confidence day after day and move on."
He added: "It's, let's say not my fault, but my driving style. I'm extremely precise. This has been my weakness and also my strength and when we had this power steering the feeling I was getting it was not the real one. What was happening with the car it was not was transmitting to me.
"Because I'm so precise, I was reacting to something that was not true. So I was basically chasing something that was not real. I'm not going to say that I'm going to fly now, but I'm now in control of the situation."