Brad Keselowski consider himself 'lucky' to have survived his testing shunt at Road Altanta
| | |
| --- | --- |
| By Diego Mejia | Friday, August 5th 2011, 23:11 GMT |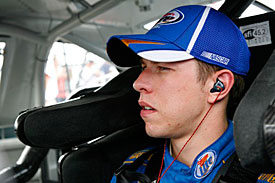 Penske racer Brad Keselowski criticised the safety standards of Road Atlanta after his testing crash which caused an avulsion fracture to his left ankle.
Keselowski said it was pure luck that prevented a worse outcome from his incident after he went off the track at Turn 1 with a suspected brake failure. The 27-year-old, a two-time winner in the Sprint Cup series, said he initially feared he had more injuries than those diagnosed due to the severity of the head-on impact against a concrete barrier which was protected by two lines of tyres.
A picture from the scene of the crash tweeted by Sprint Cup champion Jimmie Johnson Wednesday - who was also testing - showed Keselowski's car knocked the barrier down.
"It wasn't good," Keselowski told reporters at Pocono on Friday. "The biggest thing is that I felt lucky that was all that was tore up. I hit about as hard as you can hit in one of these cars and I'm still here somehow.
"As a driver, probably one of your worst nightmares is going through a corner, like that one was, without a safer barrier, without any of the stuff that we've got used to and got accustomed to, without brakes.
"And knowing that I had two or three seconds staring at a wall, knowing that I was going to hit it about as hard as you possibly could. Probably less comforting was knowing that it was a temporary wall and on the other side was trees, so I figured I was going to end up in the trees.
"Somehow, I made it through it, broke the wall down and came flying through on the other side. I was just really, really lucky."
"I was pretty sure after I hit the wall that I had broken everything that I could break," he added. "I was hurting pretty good. I guess, you know, a few days recovery and I just healed up. I feel pretty decent now. Walking isn't all that easy, but that's just the deal. You get in the race car and make it work somehow."
NASCAR introduced testing restrictions for teams in 2009, preventing them from running at tracks that host national series events.
The move has forced them to look for alternate venues to carry their testing programmes - with Virginia International Raceway and Road Atlanta being the preferred choice to test for Sears Point and Watkins Glen respectively.
Keselowski says teams have to take "chances" by going to some of these venues in order to remain competitive.
"I had a good time testing at Road Atlanta, but at the end of the day, there's a realisation that there's a reason why it's not a Cup facility. It's not up to the requirements that it takes," he said.
"Those are the things we have to do if we want to remain competitive, if we want to find the edge, if we want to go to Watkins Glen and unload as a competitive team with the Miller Lite Dodge you've got to take those chances. This Wednesday when we took those chances, we paid the price for it and almost a much larger price."
The current Nationwide series champion says despite the pain from his ankle injury he won't step out of his Sprint Cup car this weekend, having decided with his team to skip the second-tier series event he was initially entered for Saturday at Iowa.
Sam Hornish Jr was expected to be on stand-by for him at Pocono on Friday, but following an examination on Thursday, Hornish was discarded as an eventual relief driver for practice.
"I'm not going to get out [of the car]; I don't care how much it hurts. That's not going to happen. Sam [Hornish Jr.] is going to drive my car at Iowa [Nationwide]. I would go there if they would let me. I don't think I'm going to be able to convince Roger [Penske] of that. I can tell you, I'm not getting out Sunday."
Keselowski currently ranks 21st in the driver standings with a victory to his name claimed at Kansas in June. A second win in the next six weeks would place him as the leading contender for a Chase wildcard spot, but he rues his injury couldn't have come at a worst time given the characteristics of the coming tracks, which include some heavy braking.
He, as many of NASCAR's top drivers, uses his left foot to push the brake pedal.
On Friday's final practice session at Pocono, Keselowski lost control of his car at Turn 1 and ended up spinning and coming to a halt without hitting the wall. He initially limped out of his car, which had to be towed back to the garage due to blown up tyres.
"This is about the worst time knowing we're coming up on the Chase, knowing that we need another win to get in, knowing that we have tracks coming up that require a lot of finesse with the brakes - Watkins Glen and here at Pocono," he said
"And then, you've got one of the toughest races of the year with Bristol, it's 500 laps on a short track. There's no good time, but this is certainly the worst time."
Keselowski was eighth fastest in the final practice Friday at Pocono.