Ecclestone admits to paying banker Gribkowsky
| | |
| --- | --- |
| By Jonathan Noble | Friday, July 22nd 2011, 08:36 GMT |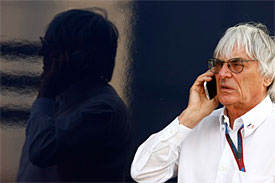 Formula 1 supremo Bernie Ecclestone has admitted for the first time that he did pay money to banker Gerhard Gribkowsky - but says he only did so because he was 'threatened' over other financial matters.
Gribkowsky was charged this week for having allegedly accepted a $44 million bribe in relation to the sale of F1 by the Bayerische Landesbank.
Ecclestone has been investigated by German prosecutors over his role in the matter, and speaking to The Daily Telegraph he said that he did pay over money - but only because Gribkowsky threatened to expose some of his financial dealings to the Inland Revenue.
"The [Inland] Revenue obviously had to check everything," Ecclestone said. "It took five years going through that. I didn't deal with it. The trust had to show it was correct.
"The taxation people in England at the time were in the middle of settling everything with the trust and the last thing you need is for them to start thinking something different. He [Gribkowsky] was shaking me down and I didn't want to take a risk. Nothing was wrong with the trust. Nothing at all.
"He never said to me if you don't give me this I will say that. He left me with the fact that could he do it or not."
Although Ecclestone insists he had nothing to hide from the Inland Revenue, he elected to pay Gribkowsky because any investigations would have cost him money.
Ecclestone said he consulted his lawyers for advice on what to do.
"They said 'I tell you what would happen, the Revenue would assess you and you would have to defend it, because you could defend it, and you would be three years in court and it would cost you a fortune. Better pay'."
He added: "I never bribed anybody or paid any money to anybody in connection with the company. I got five per cent for the sale of the company. Bayerische Landesbank approved the sale and approved the commission, which was cheap.
"I should have got more because for that sort of deal a bank would have charged a lot more. There were no secrets."