| | |
| --- | --- |
| Honda unlikely to retain Dovizioso and Simoncelli as it reduces budget | |
| | |
| --- | --- |
| By Michele Lostia and Pablo Elizalde | Tuesday, July 19th 2011, 12:01 GMT |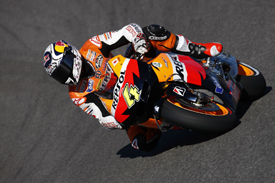 Honda racing boss Shuhei Nakamoto says it is unlikely the works team will have three riders next year, suggesting Andrea Dovizioso and even Marco Simoncelli will lose their official support.
Honda decided to run a third works bike this year, after Casey Stoner joined Dani Pedrosa and Dovizioso in the team.
Simoncelli currently races for the satellite Gresini squad, but he uses the same bike as the works riders.
Nakamoto says Honda's budget will be reduced from next year and, as things stand now, he believes only Stoner and Pedrosa will remain on board in 2012.
"These are hard times, the economic crisis is far from over," Nakamoto was quoted as saying by Motosprint magazine.
"On top of that, Japan has some big problems due to the disasters that happened last spring. All our industrial sector has had to slow down production by 30 per cent, and Honda is not immune from that. So we had to cut costs too.
"If I was forced to make an announcement today with regards to our 2012 riders, I could only talk about the works team because Stoner and Pedrosa are the only ones with a contract for next season. So I would have to say goodbye to both Simoncelli and Dovizioso.
"I've asked both to wait and be patient: we are trying to solve the situation, which is fundamentally tied to a matter of money. The budget will be cut, but I don't yet know by how much. By mid-August everything should be clearer."
Motosprint reports that it is likely there will be just four 1,000cc Hondas in 2012: two for the works team, and two for the satellite riders.
Currently the Japanese manufacturer fields six bikes.