Will Power slams IndyCar title rival Dario Franchitti after Toronto collision
| | |
| --- | --- |
| By Matt Beer | Monday, July 11th 2011, 06:53 GMT |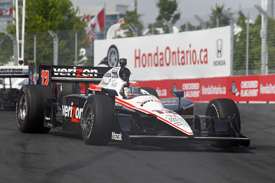 Will Power believes Toronto winner Dario Franchitti deserved to be penalised for their collision in Sunday's IndyCar race at the Canadian street circuit.
The title two rivals came together in the final stint of the race while trying to fight their way back to the front past cars on alternative strategies.
Franchitti attempted a move into Turn 3, but ended up tapping the Penske driver into a spin on the exit of the corner. While Franchitti went on to win ahead of his Ganassi team-mate Scott Dixon, Power had to be push-started and later retired following a second collision with Sam Schmidt Motorsports driver Alex Tagliani.
Afterwards a furious Power said the series officials should have taken action against Franchitti.
"It doesn't surprise me that he didn't get a penalty, because he never gets penalised, it's pretty typical," said Power in an interview with Versus. "It was a pretty dirty move. He just turned me around. Does anyone ever penalise this guy? He's as dirty as you like.
"I left the inside open on the brakes. I'm really disappointed with Dario. I always race him clean, and he always races me dirty. He did the same at St Pete, though I didn't say anything, and he did the same today.
"Disappointed in Dario. The guy that mouths off about everyone and whinges about everyone, and he's the guy who races the most dirty, never gets a penalty from IndyCar. It's just not right."
But Franchitti insisted that Power had left enough space to make a passing move legitimate.
"He outbraked himself to outbrake me and opened up the door, I went down the inside, I held the wall and Will came down," said the reigning champion.
"I put my nose in there, I was trying to get my nose out, but ultimately he closed the door and paid the price."
The controversy was exacerbated by confusion over whether Franchitti would be penalised or not, with the series' American television broadcast and official Twitter feed both initially reporting that the Scot had been awarded a drive-through. IndyCar later clarified that the incident had been debated by the officials, but that it was decided action was unnecessary.
The Toronto result moved Franchitti into a 55-point championship lead over Power, who remains second.