Q & A with Nigel Mansell
| | |
| --- | --- |
| By Simon Strang | Tuesday, July 5th 2011, 13:39 GMT |
AUTOSPORT catches up with former world champion Nigel Mansell, who attended the press conference where Williams announced its new engine deal with Renault.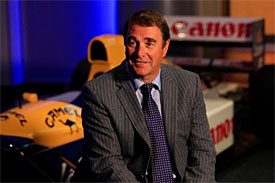 Nigel Mansell: I'm just thrilled to be part of this today to see that Renault and Williams are coming back together. Having won 28 races for them in our career and the world championship the one time was truly an amazing experience and I'm just pleased for the whole team. And I'm pleased for the British fans, it's really good.
Q. Have you found it sad watching the decline of Williams over the last few years?
NM: Well you hear people say the decline, but the decline has only been in the not winning, because they have been there or thereabouts and they are right in the midfield, or above midfield. This will make a huge difference, the impetus that they will gain from this knowing that there is something in the back [of the car] that they don't have to question, they can concentrate more on the aerodynamics on the car, which is so, so important. Everyone has got the same tyre package now with Pirelli, as they did with Bridgestone, so I think Williams could make a quantum leap at the end of this year and it will be very exciting for the fans and everybody.
Q. Are you looking to see them become regular podium finishers again?
NM: Yeah, there is no question. I work as an ambassador for Lotus Cars and so it is good to see Lotus doing so well with [Vitaly] Petrov and that. It's very exciting, because as you know Petrov with the sad accident that happened to Robert is in the hot seat now as #1, so to speak. He has had a couple of podiums and is doing a great job, and hopefully they will be getting better too.
Q. Do you believe you would have ever won your title if you hadn't been powered by Renault?
NM: I think the combination, it's never one thing. It's never an engine, it's never the car, it's never the tyres - it's not just the team, it's putting the package together. Nobody ever wins a world championship in a bad car. The car has to be good. What you can demonstrate is how could you can be as a driver, if you have the package together. Point in case; Sebastian Vettel. He's made less mistakes than any other driver this year, he's defending the world championship in a far better manner than he won it. He's matured beyond all belief, and he's riding the crest of a wave and he is doing a fantastic job. It's up to everybody else to do a better job and to start beating him.
Q. Do you have any advice for drivers on how to beat Vettel then?
NM: Yes. Don't make mistakes. We had the most extraordinary race in Canada, and I'm a big fan of Jenson anyway, but you know with six pitstops and to go out and still win the race was extraordinary. Never give up. Stop making those small mistakes from Thursday onwards. Because if you make one small mistake with the current rules and the allocation of tyres, it puts you on the back foot, so everything has to be perfect. I think that is the one rule I would change a little bit, to get a bit more activity on the circuit, I would give drivers another one or two sets of tyres so that people can make a little bit of a mistake and recover from it and actually tune the car a little bit more. They are playing into the hands of the great teams at the moment because the others can't catch up.
Q. In your championship season was there a point where you started to relax and think; 'well it's pretty much in the bag now'?
NM: No because I had been bridesmaid three times, and I had lost the world championship by one point at the last race. When you have been in those circumstances you never relax and you know I knew in the winter of '91, because I was supposed to go in for an operation on my left foot – which was broken – I couldn't afford three months off. So I put that operation off until the end of 1992 and just wore special shoes, because it's so important. You couldn't let anything get in the way, even having a few problems with your left foot, and having broken bones, doesn't matter. Don't let it get in the way.
Q. Seb has dropped just 14 points in eight races, which is something nobody else has ever done...
NM: It is phenomenal. Ferrari did set new benchmarks when they went three years without a mechanical breakdowns. Michael Schumacher won three world championships and people have said that it was through reliability as much as anything else. So Red Bull now are making a new benchmark – what can be done from out of the starting blocks if you get everything perfect. But don't underestimate... Sebastian has done the best job with the Pirelli tyres, and for me my take on it is he's not been used to the other older tyres, where you get a lot of balance and grip and everything else, and there are a lot of drivers out there who have been used to a different type of tyres and they haven't had the same sort of response from the Pirelli as the past. And I think that Sebastian is dealing with the tyre situation far better than the others.
Q. How do you handle this weekend as a steward when the whole of Britain is looking at you and you?
NM: It's relatively easy. It's total transparency. No exceptions at all. The FIA's stewards play with a totally fair bat. It's going to be an exciting time, the only thing I will do is maybe speak to a couple of people and just make sure they do understand the regulations as well as they think.
Q. Are you expecting to have to make a few more decisions to make – especially with all the changes this weekend?
NM: I'm told there is going to be a lot of exciting next weekend, but well it's the British Grand Prix! I think the drivers will do a fantastic job for themselves and also for British motorsport next weekend. I think the changes are going to be very exciting, I think it is going to affect some teams more than others and I think there are going to be a few not happy about it. But we will just have to wait and see.
Q. Do you think Lewis will have to change his mindset a little bit if he wants to win the British GP?
NM: No, I don't think so. Lewis is a racer and a fighter. The thing he hasn't got quite right is when you pass people just try not to knock em off! That's the only thing. Still go for the gaps, but give them a little room and don't do it on corners where there's no recovery. People are there to race, just like he is. You know he is a great racer and he has just got get it a bit more right than what he has done in the last few races.
Q. Is there any hope for the likes of Lewis and Jenson to catch Sebastian this year?
NM: It's a long season so absolutely. McLaren is a fantastic team and they have proved in the past... I mean I will never forget in the 1991 season, Ayrton came up to me halfway through the season and he says; 'Ha, ha, ha. Don't worry I've got a new engine coming and it's got 60 more horsepower.' And I just looked him and said; 'Yeah right'. The next race, another engine with 60 more horsepower and he blew the doors off everybody.
So you know teams can respond, manufacturers can respond, drivers can actually respond. I still think there is a long way to go. Obviously Red Bull domination, Sebastian with the point lead that he's got, is it realistic that someone can actually haul that back? They need a bit of help, they need lady luck on their side. Sebastian needs to be a bit unlucky, he needs reliability problems for them to pull that back, but it is never over until it's over.
Q. If you were Lewis would you be tempted to take a Red Bull seat next year?
NM: First of all he would have to be fortunate enough to be offered one. But for me Lewis has had an amazing career with McLaren and I think as Michael Schumacher proved by staying with Ferrari, if you can have the support of a team totally behind on you, build on that year on year. He hasn't exactly had a drought, McLaren are a fantastic team. Personally I would stay with McLaren and all the people who had supported him, through thick and thin, I think it might be a mistake if he changes teams.