Williams has no doubts about size of Renault F1 engine programme
| | |
| --- | --- |
| By Jamie O'Leary | Monday, July 4th 2011, 14:01 GMT |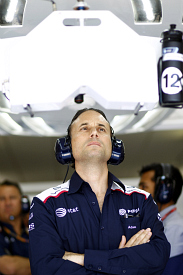 Williams chairman Adam Parr does not believe that Renault's Formula 1 engine programme will be spread too thinly next year.
The British team announced on Monday that it will utilise the French manufacturer's engines in 2012, joining Red Bull, Lotus and Renault itself as a user of the powerplants.
While this means that Renault will supply a third of the cars on the grid next year, Parr does not anticipate that this will cause any problems.
"Given the massive investment that Renault has made in its V8 and will make in the V6, they need a decent group of teams to supply - remember that they do not have their own team [it does not own any part of the team that bears its name] and so linking up with a number of successful chassis makers is essential," Parr said.
"In addition, the number of engines now used each season is very small. From over 200 per team a decade ago we are now down to about a tenth of that. From 2014 it may well drop by half again.
"Also with limited, single-car testing four teams gives Renault much more data for reliability and whatever development will be allowed in the future. Renault has always shown total integrity in offering parity to its partners and that is another essential factor for all of us."
Renault Sport F1 president Bernard Rey echoed Parr's sentiments and said that the French manufacturer, which won four drivers' and five constructors' titles as Williams' works engine supplier between 1989 and 1997, would not have taken on a fourth customer team if it had not felt capable of doing so.
"At the end of 2010 we announced a third team, Team Lotus, would be added to our existing partners of Lotus Renault GP and Red Bull Racing," Rey said.
"By the results we have achieved this year we have already demonstrated that there has been no drop-off in performance or service in doing so.
"We have sufficient facilities to adequately service a fourth client and will consider our internal structures before recruiting more personnel if necessary. Our priority is maintaining the excellent customer service and satisfaction and we'll take necessary measures to restructure operations if necessary."
Rey also confirmed that none of Renault's engine customers would be given preferential treatment over another.