Peugeot dominates the Imola Six Hours
| | |
| --- | --- |
| By Gary Watkins | Sunday, July 3rd 2011, 19:05 GMT |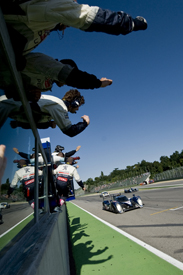 Sebastien Bourdais and Anthony Davidson claimed victory in the Imola Six Hours on a day when Peugeot had the upper hand over arch-rival Audi.
The Peugeot 908 turbodiesels finished one-two and a lap clear of the pair of Audi R18 TDIs in the fourth round of the Intercontinental Le Mans Cup at the former home of the San Marino Grand Prix. Bourdais led for the first two stints before a botched pitstop allowed Stephane Sarrazin to move ahead in the car he shared with Franck Montagny.
Davidson closed down a 10-second deficit to Sarrazin and emerged ahead after the next round of pitstops. With the Audis beginning to fade at this stage, Peugeot decided to freeze the order.
The winning Peugeot looked to have lost the race in the penultimate hour when Bourdais had contact with a slower car and suffered a puncture. Eight laps later, Montagny had a similar problem after going off line, switching the Bourdais car back to the head of the leaderboard.
Davidson said: "This was such a fantastic race to win. First and second [for Peugeot] is unbelievable; we didn't expect such domination."
The Audi R18 appeared to be in the mix early on, but a combination of braking issues caused by debris blocking the front cooling ducts and the Peugeot's superior straight-line speed, which allowed it to cut through the traffic much easier, meant the cars drifted out of contention in the second and third hours.
LMP2 honours went to the Le Mans-winning Greaves Motorsport Zytek driven by Tom Kimber-Smith, Olivier Lombard and Karim Ojjeh. The Nissan-engined contender was not the fastest car in class, but its major rivals all suffered technical glitches.
BMW looked on course for GTE honours until the car driven by Jorg Muller and Augusto Farfus Jr was hit with a one-minute stop-go penalty in the final hour. The AF Corse Ferrari team eventually finished one-two, Toni Vilander and Jaime Melo coming out on top over Gianmaria Bruni and Giancarlo Fisichella, who suffered a repeat of the misfire that deprived them of victory at Le Mans last month.
Results - 220 laps:

Pos  Cl     Drivers                          Team/Car                         Time/Gap
 1.  P1     Bourdais/Davidson                Peugeot                      6h01m01.623s
 2.  P1     Montagny/Sarrazin                Peugeot                       + 1m08.688s
 3.  P1     Bernhard/Fassler                 Audi                             + 1 laps
 4.  P1     Kristensen/McNish                Audi                             + 1 laps
 5.  P1     Belicchi/Boullion                Rebellion Lola-Toyota            + 7 laps
 6.  P1     Jani/Prost                       Rebellion Lola-Toyota            + 7 laps
 7.  P1     Collard/Tinseau/Jousse           Pescarolo-Judd                  + 13 laps
 8.  P2     Ojjeh/Lombard/Kimber-Smith       Greaves Zytek-Nissan            + 15 laps
 9.  P2     Mailleux/Ordonez/Ayari           Signatech ORECA-Nissan          + 17 laps
10.  P2     Tucker/Bouchut/Barbosa           Level 5 Lola-HPD                + 19 laps
11.  P2     Perez Companc/Russo/Kaffer       Pecom Lola-Judd                 + 19 laps
12.  P2     Premat/Nicolet                   Oak Pescarolo-Judd              + 20 laps
13.  GTE P  Melo/Vilander                    AF Corse Ferrari                + 22 laps
14.  P2     Leventis/Watts/Kane              Strakka HPD                     + 23 laps
15.  GTE P  Fisichella/Bruni                 AF Corse Ferrari                + 23 laps
16.  GTE P  Farfus/Muller                    BMW                             + 23 laps
17.  GTE P  Lieb/Lietz                       Felbermayr Porsche              + 24 laps
18.  GTE P  Pilet/Henzler                    IMSA Porsche                    + 24 laps
19.  FLM    Ducote/Marcelli/Marroc           JMB FLM                         + 25 laps
20.  FLM    Schultis/Simon/Schell            Pegasus FLM                     + 25 laps
21.  P2     Beche/Thiriet/Firth              TDS ORECA-Nissan                + 26 laps
22.  GTE A  Armindo/Narac                    IMSA Porsche                    + 26 laps
23.  FLM    Moro/Zhang/Graves                Hope FLM                        + 26 laps
24.  GTE A  Long/Roda                        Proton Porsche                  + 26 laps
25.  P2     Rosier/Basso                     Extreme Limite Norma-Judd       + 27 laps
26.  GTE A  Bornhauser/Canal/Gardel          Larbre Corvette                 + 27 laps
27.  FLM    Julian/Zugel/Petersen            Genoa FLM                       + 28 laps
28.  GTE A  Perazzini/Cioci/Lemeret          AF Corse Ferrari                + 28 laps
29.  GTE P  Goossens/Holzer                  Prospeed Porsche                + 29 laps
30.  P2     Barlesi/Da Rocha/Lafargue        Oak Pescarolo-Judd              + 29 laps
31.  GTE P  Dolan/Hancock                    Jota Aston Martin               + 29 laps
32.  P2     Kraihamer/de Crem                Boutsen ORECA-Nissan            + 29 laps
33.  P1     Moreau/Ragues                    Oak Pescarolo-Judd              + 32 laps
34.  GTE A  Ehret/Lynn/Wills                 CRS Ferrari                     + 33 laps
35.  P2     Erdos/Newton/Collins             RML HPD                         + 34 laps
36.  GTE A  Hummel/Christodoulou/Quaife      CRS Ferrari                     + 35 laps
37.  GTE P  Werner/Lamy                      BMW                             + 38 laps
38.  GTE A  Rugolo/Krohn/Jonsson             Krohn Ferrari                   + 50 laps

Retirements:

     GTE P  Beltoise/Jakubowski/Firman       Luxury Ferrari                   189 laps
     P1     Cortes/Geri/Piccini              MIK Zytek                        157 laps
     GTE A  Felbermayr Jr/Ried               Felbermayr Porsche               147 laps
     GTE P  Bell/Walker                      JMW Ferrari                      143 laps
     P2     Gates/Garofall/Phillips          RLR MG Lola-Judd                 140 laps
     GTE P  Farnbacher/Simonsen              Farnbacher Ferrari               101 laps
     P2     Frey/Meichtry/Rostan             Race Performance ORECA-Judd       69 laps
     GTE P  Lichtner-Hoyer/Rich/Slingerland  Jetalliance Lotus Evora           26 laps
     GTE P  Hirschi/Rossiter/Mowlem          Jetalliance Lotus Evora            8 laps
     GTE P  Ortelli/Makowiecki               Luxury Ferrari                      1 lap