Tempers flare at first Cup road course race of the season
| | |
| --- | --- |
| By Diego Mejia | Tuesday, June 28th 2011, 08:41 GMT |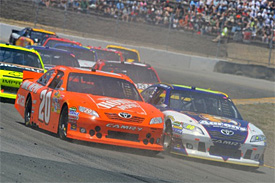 A number of drivers ended up feuding following the first road-course race of the Sprint Cup series season as NASCAR continued being true to its policy of letting drivers police themselves on the track.
NASCAR's self-proclaimed premise of being a contact sport was evident once again during Sunday's Sprint Cup series race at Sears Point, a track that due to its stop-and-go nature and long braking distances provides plenty of overtaking but also many opportunities for incidents to arise.
The 110-lap event had only five caution periods, a number that doesn't reveal the true picture of what transpired on the track as aggressive passes and retaliatory moves made for an action-packed race.
Polesitter Joey Logano was among the first to let his temper show while fighting for position with former Sears Point winner Robby Gordon, nearly halfway through the race. After being 'pushed around' earlier by Gordon, the Joe Gibbs Racing driver decided to pay his rival back by pushing him against the barrier under braking for the final hairpin which was the focal point of many of the day's incidents.
"He was running me all over the race track," said Logano. "He knocked my fender in for no reason. We were a lot, lot faster than him. I just had enough. I wasn't going to get pushed around. He pushed around before and I was sick of it. I think that's a small story. That's not a big deal. We finished sixth. I'm pretty happy about that."
Later on, entering the deciding stages of the race, Red Bull's Brian Vickers blatantly turned Stewart Haas' Tony Stewart around at the same spot, the two-time Sprint Cup champion ending up on top of the tyre barrier after crashing backwards against it.
Vickers admitted the move to be intentional after Stewart had spun him around early in the race at the same corner, his car ending up severely damaged as he hit one of the inside tyre barriers. Stewart also stated his first move on his rival was intended as he felt Vickers was blocking him unnecessarily too early into the race.
"I dumped him earlier for blocking and he got me back later on," admitted Stewart speaking immediately after the race. "If they block, they are going to get dumped. It is real simple. I mean I don't blame him, I don't blame him for dumping us back. But, I don't race guys that way, I never have.
"If guys want to block then they are going to wrecked every time. Until NASCAR makes a rule against it, I am going to dump them every time for it. He did what he had to do, I don't blame him, there is nothing wrong with it."
"...There wasn't any reason at the point of the race where he started blocking in the first place. It didn't make sense to do it and I'm not going to tolerate it. I don't race guys that way and I'm not going to let anybody race me that way. So if they block they get dumped. Plain and simple."
Vickers argued that what Stewart saw as a blocking maneuver was him simply reacting as cars checked up ahead when Kyle Busch rejoined the track after contact with Earnhardt Ganassi's Juan Pablo Montoya pushed him off-course at the previous corner.
"I wasn't blocking him [Tony Stewart]," said Vickers. "That may have been his perception from where he was sitting. You know, the 18 [Kyle Busch] went off the race track in front of me - he was flying through the dirt.
"He was coming back on the race track and I was trying to avoid him. You know the cars in front of me were slow and I was in the inside of the guy in front of me. It's pretty early in the race to worry about blocking someone or wrecking someone.
"...You know, it's unfortunate. He made his bed at that moment and he had to sleep in it."
Montoya was on both ends of the action as well, first having contact with Busch and then running too deep under braking for the hairpin and pushing Stewart Haas' Ryan Newman sideways.
While trying to charge back on fresher rubber than his rivals in the closing stages, he collided with Red Bull's Kasey Kahne while attempting a last-minute dive at turn 2, while a few laps later Penske's Brad Keselowski turned him around at turn 3, when he had already cleared him for position.
"The #4 [Kahne] was the first car," said Montoya. "I got beside him and he knocked me a couple of times and they just don't give me any room so it was hard. The #2 [Keselowski], I got on his bumper moved him a little bit, got beside him and passed him and he just plain and simple wrecked us.
"... We got through the corner and I just got on his bumper a little bit and moved him a little. Got a good run and I guess he didn't like it. I mean, it is just hard to run with people who have never run well on road courses or have no experience at it. It cost us a ton of points today."
While Kahne blamed the Colombian for turning him around, Keselowski admitted his move was intended against Montoya.
"I don't take any pride in all that stuff, but at some point you have to run your own deal," said the Penske driver. "It was pretty obvious that it was eat or be eaten and I wasn't going to be eaten."
NASCAR officials deemed no action was necessary in any of the incidents.