Q & A with Sebastian Vettel
| | |
| --- | --- |
| By Jonathan Noble | Thursday, June 23rd 2011, 16:44 GMT |
AUTOSPORT caught up with Sebastian Vettel ahead of the European Grand Prix, the eighth round of the 2011 championship.
Q. How worried are you about the regulation changes?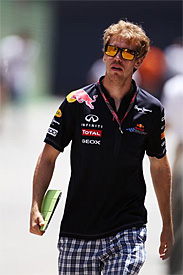 Sebastian Vettel: "Not worried.
Q. Why not?
SV: "Because I think it's something that everyone was playing around with, especially this year, some people already last year. It makes a difference to everyone, but I don't think it makes a bigger difference to us than other people. It's the same for all of us, all the teams."
Q. Do you expect your advantage in qualifying to be similar?
SV: "I mean, usually I have been quite good communicating with the team and they have always told me what we do. I don't think they are hiding something from me so there's no secrets. We had some phases last year where people thought we had some lever in the car - turns out we didn't. I was asking myself whether we actually do and nobody tells me, so maybe I should ask myself whether we do something special again this year. From what I know, I can assure there is nothing special going on from Saturday to Sunday. We have more new tyres on Saturday – that helps."
Q. Will we see more overtaking on this track?
SV: "It depends largely on the track, how many zones you have and how big the zone is, how many metres."
Q. What is your explanation – it is a fact that McLaren in the race is closer to Red Bull than it is in qualifying?
SV: "Maybe they have a reason why they are faster in the race, or over performing in the race, compared to qualifying, I don't know. We've had some straightforward races where we had very good race pace, and other races where we've said straight after that our race pace was not according to what we expect ourselves, so in hindsight we underperformed in some races.
"I think you need to see every race on its own. Canada was largely determined by the weather conditions. Going to Monaco, in my case I think we had a very good race pace initially and then a very different strategy which makes it difficult to read the true pace. If you go even further, in Barcelona we had a very good Sat, people expected a boring race and it was very tight on Sunday. I think after that race we said we should have been quicker and we had to find the reasons. We had some ideas, we worked hard. I think it depends a lot on the track, the conditions and how the race unfolds.
"I can only judge what we do and sometimes we had good Saturdays but on Sundays struggled against ourselves, which doesn't help us in terms of relative pace to the others."
Q. How have you reflected on that last lap mistake?
SV: "It was really straightforward. It was a very long race, plenty of opportunity to do a mistake or get something wrong. I think in hindsight we did a very good job, I did one mistake a half a lap to the end and straight after I was a little bit disappointed and angry because the win was so close.
"My only chance was to push as hard as I could to make sure I had enough cushion going onto the back straight, otherwise I had the same destiny as Michael (Schumacher) had against Jenson when there's no chance to defend, but I didn't come that far. Still we finished second, very good points. We are here to win the championship. Some of the drivers didn't finish at all, so it could have been worse."
Q. What are your expectations for the weekend
SV: "We will see. A lot of things can happen. We cannot afford to approach the race and try to do our job; we always have to push as hard as we can, try to get the maximum out of ourselves and optimise our results. Some races won't be easy and you will struggle, but it's the most important to not lose your target.
"I think it will be a tricky weekend, the track usually is difficult for us. Looking back we've ad a very competitive car in qualifying and race conditions everywhere so far, and that makes us reasonably confident here. Canada should not really have suited us but we had a very good day and put the car on pole, so we will see what we can do here."
Q. How is the KERS situation in the team?
SV: "It's getting close in the races as we have seen, the last three races especially. It is not a secret that not always in these races I have had KERS, and you can see in the laptimes it makes a big difference. We're working very hard on it, but surely that moment has arrived."