Barrichello: New rules to help Williams
| | |
| --- | --- |
| By Edd Straw | Thursday, June 23rd 2011, 13:52 GMT |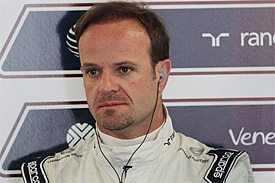 Williams could gain a performance boost thanks to the FIA's decision to ban both off-throttle blowing of the diffuser and the changing of engine maps between qualifying and the race.
From the British Grand Prix at Silverstone in two weeks, the maximum throttle permitted while a driver is off the pedal will be 10 per cent, while the engine map rule change comes into effect immediately.
Rubens Barrichello is hopeful that Williams, which does not change engine maps between qualifying and the race and despite cold blowing, its diffuser off-throttle has never used the more potent hot blowing concept, could be a beneficiary.
"We are knocking on the door of Q3, so were are there or thereabouts and scoring low points for now," said Barrichello when asked by AUTOSPORT about the team's recent performance level. "We need to see what this new rule is going to change.
"We don't have engine maps that we change from qualifying to the race, so I don't know how much people gain from it. We have nothing [in terms of changed aero maps and hot blown diffusers] and have been doing that from the beginning of the year.
"But however much people improve, from one tenth to whatever, it only going to bring us back to the ballpark."
Barrichello added that the team's aerodynamic upgrade programme should also help improve its form. In harness with any benefit from the rule changes, he is hoping that this might move the team into strong Q3 contention on a regular basis.
The Brazilian has finished ninth in both Monaco and Canada, but is confident that the team can improve on that in the coming races.
"If our aero parts are working as well, we might be going forward," he said. "We will see how the developments here and Silverstone go, because we have lots of new things to go on the car that are going to be good.
"If people go backwards because of the FIA changes, it may be that we take a step forward as well. I'm looking forward to that."
The FIA's decision has come under fire in some quarters, but Barrichello believes that it has been done for the good of the sport.
"It's much more of a sporting decision than a political decision," he said. "F1 is about the future of road cars and I don't think you are going to see much exhaust blowing on the road.
"It's not eco-friendly, so in that respect it's much more of a sporting decision."