Heidfeld: Renault is back on course
| | |
| --- | --- |
| By Matt Beer | Saturday, June 18th 2011, 11:32 GMT |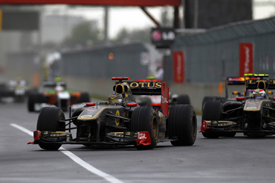 Nick Heidfeld believes Renault has made a breakthrough in understanding its problems and beginning to improve its performance.
After being disappointingly off the pace in Monaco, Heidfeld and team-mate Vitaly Petrov returned to the top 10 in Montreal, where the German had a shot at the podium before crashing out following a touch with Kamui Kobayashi, and Petrov finished fifth.
Heidfeld said that despite retiring from the Canadian race, he had gone away encouraged by Renault's progress.
"It was important for the team to come away from Canada understanding some of the problems we encountered in Monaco, and I think we have clear proof that we did exactly that," he said.
"We now know which direction we need to take, and it is obvious the team started doing that during the two-week spell between Monaco and Montreal. These things don't magically happen overnight, but we have done a good job in analysing where we need to improve."
Team boss Eric Boullier said that now Renault was starting to regain ground, it was vital to get a few more podiums under its belt in the four races remaining before the August break.
"We need another podium or two in this time to cement our position amongst the grid's elite teams, and to remain competitive ahead of Mercedes GP, whose season has clearly improved," he said. "Retaining our position in the top four in the constructors' championship is an absolute priority for us, and we must continue to lay down the marker over the next four races."
Petrov believes that even when its car has not been on the pace, Renault has let opportunities slip away through errors and operational shortcomings.
"I think we can do much, much more," said the Russian. "I know I've said that before but I really believe we can. We've had good results, but together we can achieve greater things.
"Sometimes I've made mistakes, sometimes our pitstops could have been improved, but generally I think we can take it up a level. We need to minimise the mistakes, and the points will keep on coming."