FIA finalises British GP diffuser ban
| | |
| --- | --- |
| By Jonathan Noble | Thursday, June 16th 2011, 17:00 GMT |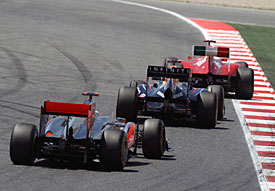 Formula 1's ban on the off-throttle use of blown diffusers will definitely come into force at the British Grand Prix, AUTOSPORT can reveal, after the details were finalised by technical chiefs and the FIA on Thursday.
Just days after FIA technical delegate Charlie Whiting wrote to the teams to make it clear that he was determined to push through the ban, the matter was discussed in detail by F1 thinktank - the Technical Working Group
Although no official statement has been made about the outcome of the meeting, sources have revealed to AUTOSPORT that the FIA saw no reason to postpone its intended ban any further than Silverstone, having delayed its original start date of the Spanish Grand Prix because of what it feared would be 'unintended consequences' for teams.
This will effectively limit teams to using just 10% of engine over-run when the driver is off the accelerator - which will prevent the clever mapping systems that have pumped almost full throttle exhaust flow through engines when the driver was not on the power.
As well as the change for this year's regulations, the teams and the FIA agreed a bigger revision to the 2012 rules that will make it impossible for teams to run any form of blown diffuser.
Rather than limiting the location of exhausts to a box near the centreline of the cars, as originally suggested in Whiting's latter last weekend, the TWG agreed that the rules should instead force teams to run top-exit exhausts - which were common in F1 several years ago.
This change was made because some teams believed that even having exhausts exiting at the rear of the car above the diffuser meant there was still a chance of them being able to influence the car's aerodynamics.
The changes for the British GP are expected to affect almost every team on the grid - although how much it has an impact on the competitive order is unclear.
Ferrari team principal Stefano Domenicali suggested in Canada last weekend that the revisions could lead to a completely different picture for the second half of the championship.
"We need to see in Silverstone, what is the real effect of this change in the regulations with regard to the effect of the exhaust," he explained.
"Then, we will see really where is the second championship in terms of the level of performance above all in higher downforce tracks."
It is understood that having listened to the views of the teams in the meeting, the FIA will communicate with them by Friday evening to let them know the specifics of the engine mapping restrictions for Silverstone and what changes - if any – will be made from the details of the note that was sent to them in Montreal.