Mercedes positive despite positions
| | |
| --- | --- |
| By Rob Schatten | Saturday, June 11th 2011, 19:20 GMT |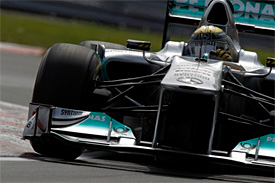 Mercedes GP is staying positive after falling a little short of its practice-session promise in qualifying ahead of Sunday's Canadian Grand Prix.
Having been fastest and third fastest in first practice on Friday, Nico Rosberg and Michael Schumacher qualified sixth and eighth on Saturday afternoon.
Mercedes' usual strategy of sending its drivers out for one run only in third qualifying failed to produce the desired results, with Schumacher in particular struggling to get his Pirelli super softs up to temperature.
The seven-time world champion also had a brief mechanical problem during his fastest lap, denying him the ultimate performance he had been building towards.
"We can be quite happy with today's qualifying. I had lost drive momentarily after turn four during my last lap but otherwise I had a clean lap," Schumacher told reporters.
"We will have to analyse why that happened, but all went pretty well other than that. We have developed our set-up in the right direction over the weekend, and the long runs looked quite good this morning, so we should be OK in the race."
Rosberg, who lines up sixth and outqualified McLaren's Jenson Button, praised the team's "good progress" and promised he has more in the tank for tomorrow.
"I'm pretty confident that we can do better in the race, certainly compared to our pace in Monaco," he said. "We've put in a lot of work on race performance and I hope we can translate that tomorrow. It's good to have saved a set of new options as well."
Both team principal Ross Brawn and Mercedes motorsport vice-president Norbert Haug felt that the one-run strategy have put their drivers in an advantageous position for tomorrow's race - so long as the weather doesn't upset the team's plans.
"We had a very solid qualifying session today with both the drivers and team doing a good job," said Brawn. "We have given ourselves a decent chance with the tyres and have a set of new options left for both drivers for the race."
"With two runs in Q3, we might have been able to climb a position or two on the grid," added Haug. However, a fresh set of tyres for tomorrow will be even more beneficial – if the race stays dry, of course."