Pirelli eyes less aggressive push
| | |
| --- | --- |
| By Jonathan Noble | Saturday, June 11th 2011, 14:01 GMT |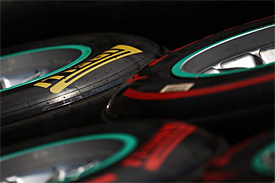 Pirelli may be delighted that it has put the 'emotion' back in Formula 1 tyre talk this year, but it has revealed it is ready to take a step back from being so aggressive with its tyre choices to further help make the races better.
Although the Italian tyre manufacturer says it has hit its targets in improving the spectacle in 2011, it thinks that having four-stop races like Turkey and Spain turned into were a step too far.
That is why Pirelli will now work hard to ensure that its tyre choices for grands prix are aimed at achieving its aims of two stoppers - which will likely mean having just one step difference between the compounds at some races from now on.
"We have said we wanted to make sure that we stick with two to three pitstops per car, and the average we have got so far this season is 2.5 - so we are actually overall in line," Hembery said when asked by AUTOSPORT about Pirelli's future strategy.
"We appreciate for the tougher circuits, and we saw signs of that in Barcelona, that we are getting up close to four - and we don't want to be in that ballpark.
"The only way we can bring that back is to go a little bit more with the life of the tyre, which is what we want to do for Silverstone, and we want to run with the medium in Valencia because we want to get a race under our belts before then.
"Silverstone is one of the tough tracks. It is obviously fast and it can be chilly, but it can also be extremely warm and it can be very abrasive. So we prefer to go with something in a more conservative way – we have done enough of being aggressive."
The initial trials of the medium compound in Canada proved a success on Friday – and Hembery believes that bringing that tyre into use alongside the latest version of the hard will help it achieve it aims.
"It is something we can mix and match," he said. "We felt at the extreme level that we were missing the hard tyre as it wasn't giving us the life. We saw the hard at a number of races earlier in the season, but its life span was too similar to the soft so it didn't operate as it should do.
"Now we have changed that, but the gap between the soft and hard was too big in terms of performance so we needed to get the medium in and working to plug that gap."
Pirelli's decision to be aggressive with its tyre choices this year has helped make it one of the main talking points of 2011 – something the company said had been one of its main aims in opting for that tactic.
"I think the biggest compliment is that we know a number of our competitors are looking at what we have done and are surprised at how we have managed to get the tyre into the race weekend.
"People always ask me about control tyres versus open competition, and the answer really is that with open competition they only talk about tyres when you are losing, because they blame you, or if you have an Indianapolis type situation.
"With a control tyre if you do too good a job, as we did in WRC and the previous supplier in F1 did, people only talk about that if you do have a problem now and again.
"The midway for me was to get us involved in the strategy for the weekend but not to be the defining factor in the overall result, which we are not because the best car and the best driver has won this year."
When asked if there was an element of bravery in having taken that tactic, because of the risk of facing criticism for the high degrading tyres, Hembery said: "It was brave for me because if it hadn't worked I wouldn't be here anymore! We obviously had some back-up plans, and we could easily have switched to super conservative overnight if people were not embracing it.
"The biggest message we wanted to get across was the emotional aspect. Pirelli has been fortunate or clever over the years in creating a brand that has been able to go outside the box.
"We are a brand that can be seen in the best places and I think the way we approach F1 was to bring emotion and Italian flair to the sport. We want to be here to give it value.
"The teams are our partners and customers, and they want the sport to look upon us as someone who has given them something, not just turned up and plastered our advertising around the circuit and think that is job done.
"We have tried to give the sport something. They might come to us with a different request, they might want us to do something completely different, and if that is the case we will do that as well."