| | |
| --- | --- |
| Edwards sure he will race in Britain | |
| | |
| --- | --- |
| By Matt Beer | Monday, June 6th 2011, 08:42 GMT |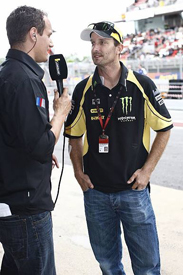 Colin Edwards is confident he will be fit enough to contest the British Grand Prix after the surgery on his broken collarbone in Spain.
The Tech 3 Yamaha rider sustained the injury in a practice crash on Friday, had a plate and screws inserted to fix the break on Saturday and then attempted to race on Sunday to maintain his record of never missing a grand prix during his career. He was denied permission to take the start by medical officials.
But having felt ready to race at Catalunya just two days after the accident, Edwards has no concerns at all about Silverstone this coming weekend.
"I know I can race next weekend and I'm already looking forward to it," said Edwards.
"I can't remember the last time I missed a race and I definitely don't like watching on TV, so I'm desperate to get back working with my Monster Yamaha Tech 3 crew."
The American accepted the decision not to let him at least take the start in Spain, though he was adamant that he felt fit enough.
I'm a little bit disappointed with the decision not to let me ride because while it's not a lifelong ambition never to miss a MotoGP race, it was a run I was pretty proud of," said Edwards.
"I understand the decision but my shoulder feels great. Dr Xavier Mir has done an amazing job on my collarbone because it was smashed, but it was never my intention to do the full race. I just wanted to start, do a couple of laps and pull in.
"I only considered it because I was here in Barcelona and it seemed pointless breaking the streak. But I'm too big and too old to get upset and I'm going to rest up now and concentrate on getting ready for Silverstone."