Petrov sure he'll be fine for Montreal
| | |
| --- | --- |
| By Matt Beer | Monday, May 30th 2011, 14:05 GMT |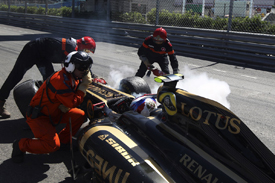 Vitaly Petrov is confident he will be fully fit for the Canadian Grand Prix, having escaped serious injury in his crash at the end of the Monaco race.
Petrov initially feared he had broken a leg when he hit the Swimming Pool barriers with six laps to go. But hospital checks confirmed that he had no fractures.
"I'm fine. I have some hurting in my legs, but it should be fine for Canada," he said in a video interview for Renault's website.
He added: "I couldn't get out of the car because first of all my legs were blocked. And also I didn't feel them. So I thought 'oh, I have a problem', because it looked like my leg was broken or something. I was in the car, waiting for the people to help me get out of the car.
"At the hospital they did a full body check and analysis and it looks like I'm fine. I need just a little bit of rest and then we'll see what is going on."
The Russian explained that he had nowhere else to go when Jaime Alguersuari made contact with Lewis Hamilton as they all tried to avoid Adrian Sutil's slowing Force India, which had just hit the barrier and picked up a puncture.
"I saw the Force India go wide because I think he touched the wall and then he had a puncture," Petrov recalled. "Then Alguersuari, I don't know why he overtook me because he was being lapped.
"Then I think Alguersuari started to brake because Lewis started to brake - he tried to avoid the accident, he braked quite hard and Alguersuari tried to do the same. But he touched Lewis's tyre and went flying a little bit. I started to brake, braked as hard as I could, but it was maybe too late. In this situation you cannot do anything. So I hit the wall."
Petrov was also critical of Sutil's driving earlier in the race when he had been trying to pass the Force India for fifth.
"Sutil defended his position quite badly because I tried to overtake him side by side three or four times and he pushed me out on the wall a few times and closed the line, not once but twice," said Petrov.
"It's not fair like this because you know in Monaco it's difficult to overtake. His tyres were completely gone and he knew it. Everyone would have passed him. So it's a pity."