Q & A with Pastor Maldonado
| | |
| --- | --- |
| By Simon Strang | Sunday, May 29th 2011, 17:29 GMT |
Pastor Maldonado missed out on his first points finish in Formula 1 after Lewis Hamilton collided with him in the closing stages of the Monaco Grand Prix.
Afterwards, while the stewards were deliberating over Hamilton's eventual penalty, Maldonado met with the press to give his side of the story. AUTOSPORT was the there to hear what he had to say.
Q. After the race Lewis said he was a victim [with the stewards] like Ayrton Senna was in the past, what do you think?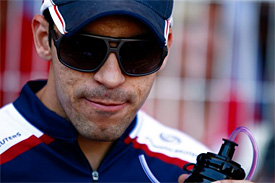 Pastor Maldonado: I think he tried the same manoeuvre on myself that he tried on Felipe. Exactly the same, he was too optimistic. This is a very narrow track and you must be very careful with your overtaking, I made very passes during the race and I never had some problems because I was very convinced to do it. For sure he was in maybe some troubles because of his position - he is fighting for the championship. I think we did a great job until the crash. That's it.
Q. What kind of penalty do you think the stewards will give him?
PM: I don't know, the stewards will decide. Now it's gone. I'm just disappointed for my race. The points were very important for us and anyway I think it was a great weekend for us and we need to look forward to the next race.
Q. You said Lewis's move was optimistic but was it not dangerous?
PM: I don't know the stewards will decide you know. This corner is always very difficult because the corner is on the left side and you have all the straight, but it is not that straight it was one long corner, and when you arrive at that corner you find that the corner is exactly on the left so... It's always difficult to overtake there, you must be side-by-side and he wasn't. I think he was too optimistic because of the condition of the race. He was on the super-soft option tyres.
Q. Did you see him coming or did you just feel the bang?
PM: No. I was just looking for my line you know and I just felt the crash.
Q. So there was no way you were expecting him to pass you there?
PM: No way. No, no.
Q. You've had a very strong weekend, so how does this disappointment feel?
PM: Oh for sure ten points gone. They were important points for me. The team did a great job this weekend. I know the track very well and I was doing my job 100%. My pace was competitive, even with Ferrari at the beginning and even quicker than Renault and Mercedes. That is how the race is, we need to look forward now.
Q. Do you feel you have proved something here, you have had some bad luck up to now?
PM: At Monaco, if you have a little touch you will always pay for it in the end. It's always like that.
Q. Have you heard from Lewis or spoken to Lewis?
PM: No. Now he is gone.
Q. Do you intend to?
PM: I don't know. I don't know what he was thinking you know.
Q. Do you think driving standards need to improve in Formula 1?
PM: I don't know how he is in the head, but for sure he was too optimistic and not only with me.
Q. Do you feel you have shown people what you can do this weekend?
PM: For sure. That is the only positive thing about this weekend. I went to Q3 with a very good time. The pace in the race was so good. I was so consistent, all through the weekend I didn't have any mistakes and that's really positive for us. All through the weekend I pushed more to be competitive and the team is getting better to improve the car. I'm more confident now, this is my first year, but I don't feel like a rookie.