Button sure victory is achievable
| | |
| --- | --- |
| By Jonathan Noble | Sunday, May 29th 2011, 10:22 GMT |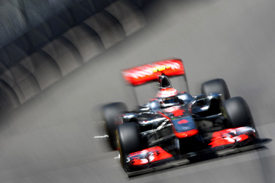 Jenson Button thinks that his fight for victory in the Monaco Grand Prix is far from a lost cause, despite world championship leader Sebastian Vettel starting ahead of him on the grid.
With track position vital in Monaco, and the dirty side of the track having not offered the best get away in the support races, Button's chances of beating Vettel into the first corner appear to be slim.
But while in the past not leading into Sainte Devote would give little opportunity to realistically think of victory, Button believes that the varied tyre strategies this year could make the race more open than usual.
When asked how he rated his chances of winning, Button said: "You would hope there would be a little possibility being on the front row, and even though Monaco is very difficult for overtaking there is only one person who is better positioned than me.
"Anything can happen around here. The race is 78 laps long. I really haven't got a clue what strategy we will take, and everyone will be in the same position - is it one, is it two, is it three stops? Which tyres are you going to put on when? It is going to be an exciting race. It is not your standard race, where you would just stop on lap 40, put another set on and go again."
Button says he has felt confident in his car all weekend – which has helped him emerge as Vettel's nearest challenger so far.
"I have felt good in the car and I have felt confident in the car, which is what you need on a circuit like this," he said. "I think it suits my style.
"I think for both of us we have really been trying to put more front end into the car. I have struggled to get enough front end in the car for the low-speed corners, but it got better and better in qualifying.
"I made a bit of a mistake in Q2, but in Q3 I felt I did a very good lap and we were actually fuelled to do four timed laps, and it was on my first lap I did my best lap.
"On my second lap I was half a second down in the first sector as you won't go quicker on the second lap if you haven't gone much quicker in the first sector. We always planned to do two timed lap runs, but on the second set I didn't get to actually properly run on because of the [Sergio Perez] accident."
Team-mate Lewis Hamilton, who starts ninth on the grid, believes that points may well be the best he can aim for after his disappointing qualifying effort.
"What can I say? It was great up until Q3, but it was just unfortunate the run plan we had didn't work. That is life, and that is motor racing. In the race we will still try and get as many points as we can."