Heidfeld says bumps hurting Renault
| | |
| --- | --- |
| By Jonathan Noble | Sunday, May 29th 2011, 08:49 GMT |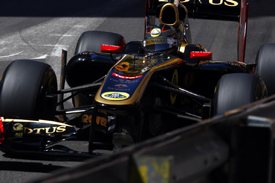 Nick Heidfeld has blamed his car's inability to deal with the bumps on the Monaco Grand Prix circuit as the key factor in his team's disappointing showing so far.
Renault had gone into the Monaco weekend with high hopes for a repeat of the podium finish that Robert Kubica delivered during one of the outfit's strongest weekends of the 2010 season.
However, both Heidfeld and team-mate Vitaly Petrov have struggled to extract speed from the R31 - and the pair will line up 16th and 11th respectively for Sunday's race.
Heidfeld concedes that their car has simply not been fast enough in Monaco - and says it is hard to understand exactly why.
"We thought that the car would be good because it's usually good over the bumps and that's also what I felt at the beginning of the weekend," he explained.
"The car is nicer to drive but it's just not quick enough. Actually, in qualifying there was quite a bit more bouncing than there was before and what I hoped for, but we will keep on working for this weekend.
"What is promising is that in the factory, we understand the car better and better and have some good developments coming. It's just a question of how long this will take. I will not say that next week we will have a big update, but there are some good things coming later."
Heidfeld said that it was difficult to work on the bump issue because at some parts of the track that car was fine.
"It depends on the bumps that we are going over. On some bumps, the car is pretty good and probably better than a lot of the others, but on some other bumps and kerbs, it's not as good as I would like.
"In some places I have to drive within a certain limit because otherwise the car was bouncing too much."
The performance has left Heidfeld holding out for some good fortune in the GP itself to try and bring home some points.
"A clean race would be nice," he said. "Overtaking is very unlikely, but on the other hand we know that there can be safety cars here and not all cars finish. So there is always a chance to go forward not by overtaking but by having a clean race."