Pirelli predicts varied strategies
| | |
| --- | --- |
| By Jonathan Noble | Friday, May 27th 2011, 11:49 GMT |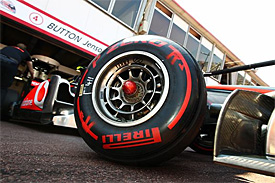 Pirelli believes that its tyre choice for the Monaco Grand Prix is going to result in teams opting for varied strategies in the race in a bid to try and secure a top result.
With pre-event fears of tyre chaos caused by a rapidly degrading super soft having proved unfounded, Pirelli thinks the performance of its rubber so far is going to lead to outfits picking some radical tactics on Sunday.
Director of motorsport Paul Hembery said he expected a two-stop to become the race-winning strategy on Sunday - but it was not clear yet whether it would be better to start on the prime rather than the option tyre.
"I think teams will probably do two stops, because they are going to have to use the super soft," explained Hembery.
"If I was in Q2 [so qualified outside the top ten] I would have a real go at trying to overtake the first runners by having an extended first stint on the soft and then putting the super soft on at the end, when you have a light fuel load and have got the pace," he explained.
"Here track position is a premium but some of them will have to adopt some very different strategies for once and maybe not just go with the flow."
Hembery believes it has got the degradation level of the super soft and soft tyre spot on – because it was giving teams a tough time to work out the best strategy for the race.
"We did see the soft have a good degradation, which is what we wanted," he said. "We didn't want it to last too much, because what you have then is a situation where if it was too stable and lasted a long time they wouldn't be doing multiple pit stops to take the performance benefit of it, and that doesn't look to be the case.
"We were pleased the soft tyre was working well and expected tyre life is 30 laps or maybe more."
Speaking about the super soft, Hembery said: "There is quite a lot of degradation. The time loss is actually very big because it forces you to get onto the soft, which is what we wanted.
"It is not actually a wear issue with the super soft, it is a performance issue. The crossover point is so rapid."