Q & A with Nick Heidfeld
| | |
| --- | --- |
| By Simon Strang | Thursday, May 26th 2011, 16:30 GMT |
Nick Heidfeld's preparations for the Monaco Grand Prix did not involve a car fire, such as they did last weekend in Barcelona, but the German was surprised to find that his Renault R31 was not as competitive as he'd hoped in free practice.
The German spoke to AUTOSPORT afterwards to discuss the pace of the car, Pirelli's tyres, and his renewed focus on qualifying.
Q. What sort of grip are the Pirelli tyres offering here? Do you expect the track to rubber in?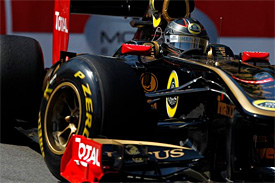 Nick Heidfeld: I think what we have seen over the season so far and what we have seen here today as well; first of all the circuit gets quicker because we clean it and then there is a bit of rubber going down, but nowhere near as much as with the Bridgestones.
Q. Are you surprised by the gap to the front with you being more than 2s shy of Alonso?
NH: Yeah I am because coming here the team thought that we would be able to fight at the front and although we will still try to do that I can't see where we should find two seconds.
Q. Are you having any specific problems with the car?
NH: Everything was in the normal window for P1 and P2 sessions so there is scope for improvement, but it is the same for the others. It's not like I'm saying 'Oh today was a disaster, on Saturday we will easily find a second or so.'
Q. So you don't expect to find a lot of time.
NH: I think we can improve the car in the normal way, but...
Q. Do you think there is still potential for a good result, given that so much can happen at Monaco?
NH: It is too early to say because we still have to analyse the data from today to see what strategies we might use or what possibilities there are, because it is the first time we are using the super-soft tyres and at the moment we really don't know.
Q. Are you slightly frustrated to be where you are, given that you got a full day's running in today?
NH: Well as long as you don't think you have got the maximum or you are worse than where you are coming here - expectations-wise – and as long as you are not on P1 you are never happy you know. That doesn't mean that I don't think that I performed at the maximum today. I think I showed a good performance but that's just where we are.
Q. Are you looking to kick-start your season back into life?
NH: Well I thought that with this car we could have scored higher more consistently. I think the two podiums were fantastic for Vitaly [Petrov] and myself and I think we did a very good performance. But in the first race in qualifying I wasn't where I wanted to be, in Barcelona I wasn't where I wanted to be and in Turkey I wasn't where I wanted to be. There are partly reasons for it that you can call bad luck, but on the other side I always try to learn from every experience, so even if you have bad luck you try to approach it in a different way to be further in the front and that's what I meant.
Q. Given the opportunity you have been given with this team, do you think you are maximising it?
NH: In the races yes, but in qualifying not all the time.
Q. So you know there is more to come from you as well.
NH: Yeah that is what I am focussing on at the moment actually. After Turkey I thought I had an idea that qualifying was not perfect and where I need to improve. Unfortunately in Barcelona I had the fire so I couldn't drive at all – yeah but I think the racing is spot-on but in qualifying I don't maximise it.
Q. You still have Saturday and you did outpace your team-mate today...
NH: Yes but it is only Thursday and when you look at the overall positions it's P10 and that's not what we hoped for.